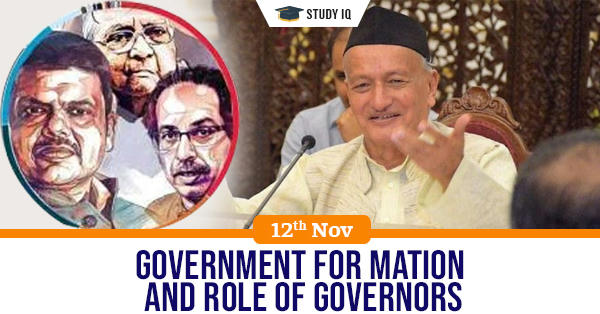 Government formation and role of governors
Date: 12 November 2019
Tags: Constitution
Issue
Maharashtra state is undergoing a crisis on government formation with no parties having clear majority to stake claim to form the government. In this case the role of governor has become important regarding his decision to invite any party to form the government.
Background
The Shiv Sena has refused to back its pre-poll ally BJP, a coaliation that had clear numbers. The other coaliation of NCP-Congress do not have seats to form the government. The governor, going by tradition has invited largest party to form the government and prove its majority on the floor of the house.
Details
After the elections are conducted and results are declared, the governor waits for the single largest party to stake claim for government formation in the state.

If there is a pre-poll alliance which commands majority then the government allows the alliance to stake claim to the power.

The majority party or coaliation produces the letter of support from the newly elected MLAs and based on that the governor allows the process of government formation to start.

The leader of the single largest party or the coaliation is appointed as the chief minister of the state and he will have to prove majority on the floor of the house within a stipulated time, failing of which will result in falling of the government.

Once the majority is proved, the chief minister recommends the names for ministerial positions and the governor appoints them as ministers.
Governor's role in case of hung assembly
The Sarkaria commission, which is considered a benchmark study says the following:
If there is a single party having an absolute majority in the Assembly, the leader of the party should automatically be asked to become the Chief Minister.

However, if there is no such party, the Governor should select a Chief Minister from among the following parties or group of parties by sounding them, in turn, in the order of preference indicated below:
An alliance of parties that was formed prior to the Elections.

The largest single party staking a claim to form the government with the support of others, including "independents."

A post-electoral coalition of parties, with all the partners in the coalition joining the Government.

A post-electoral alliance of parties, with some of the parties in the alliance forming a Government and the remaining parties, including "independents" supporting the Government from outside.