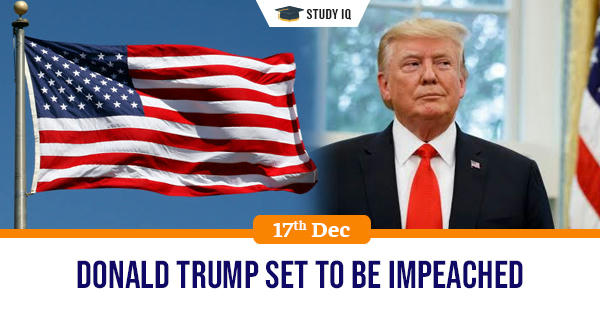 Donald Trump set to be impeached
Date: 17 December 2019
Tags: Constitution
Issue
Republican Donald Trump is likely this week to become the third U.S. president to be impeached when the Democratic-led House of Representatives votes on charges of indulging in political conspiracy against his potential Presidential rival, Joe Biden.
Background
In congressional hearings, Democrats have accused Trump of endangering the U.S. Constitution, jeopardizing national security and undermining the integrity of next year's U.S. presidential election by asking Ukrainian President to investigate Biden and his son Hunter Biden, who was on the board of a Ukrainian gas company.
Details
Republicans hold 53 of the 100 seats in the Senate, which would require a two-thirds majority of those present to remove President from office.

No U.S. president has been removed as a direct result of impeachment. Richard Nixon resigned in 1974 before he could be removed, while Andrew Johnson and Bill Clinton were impeached by the House, respectively in 1868 and 1998, but not convicted by the Senate.

Mr. Trump has alleged the Bidens were involved in corruption in Ukraine and should be investigated there, but has offered no evidence. Mr. Biden, a former U.S. vice president, has denied wrongdoing.
Presidential impeachment in India
Supreme court shall inquire and decide regarding all doubts and disputes arising out of or in connection with the election of a president per Article 71(1) of the constitution.

Supreme court can remove the president for the electoral malpractices or upon being not eligible to be Lok Sabha member under the Representation of the People Act, 1951.

The president may also be removed before the expiry of the term through impeachment for violating the Constitution of India by the Parliament of India.

The process may start in either of the two houses of the parliament. The house initiates the process by levelling the charges against the president.

The charges are contained in a notice that has to be signed by at least one-quarter of the total members of that house. The notice is sent up to the president and 14 days later, it is taken up for consideration.

A resolution to impeach the president has to be passed by a two-thirds majority of the total number of members of the originating house.

It is then sent to the other house. The other house investigates the charges that have been made.

During this process, the president has the right to defend oneself through an authorised counsel.

If the second house also approves the charges made by special majority again, the president stands impeached and is deemed to have vacated their office from the date when such a resolution stands passed.

No president has faced impeachment proceedings so the above provisions have never been used.

Though the president cannot be prosecuted and imprisoned during his term of office, he can be prosecuted after he/she steps down from the post for the guilty committed during the term of presidency as declared earlier by the courts.