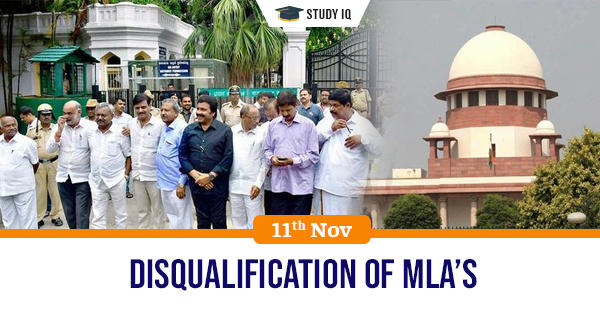 Disqualification of MLA's
Date: 11 November 2019
Tags: Constitution
Issue
The Supreme court is set to announce the verdict on the disqualification of 15 Karnataka Congress and JDS MLA's, who had resigned from the party.
Background
The resignations of 17 MLAs had brought down the 14-month JD(S)-Congress government. They were disqualified in July 2019 by the then Speaker K.R. Ramesh Kumar till the expiry of the Assembly term.
Details
The EC had postponed the bypolls, which were earlier scheduled on October 21, in view of the pending petitions filed by the disqualified legislators.

Though the electoral notification had been issued by the EC on September 27, enforcement of the model code of conduct was suspended till November 10 since it would adversely impact development programmes of the government.

The 10th schedule of the constitution, also called as anti-defection law was used for disqualifying legislators who indulged in anti-party activities, as claimed by the speaker of the house.
Grounds for disqualification of legislator under Anti-defection law
If an elected member voluntarily gives up the membership of his political party.

If the member votes, or does not vote in the legislature, contrary to the directions of his political party. However, if the member has taken prior permission, or is condoned by the party within 15 days from such voting or abstention, the member shall not be disqualified.

If an independent candidate joins a political party after the election.

If a nominated member joins a party six months after he becomes a member of the legislature.
Power to Disqualify
The Chairman or the Speaker of the House takes the decision to disqualify a member.

If a complaint is received with respect to the defection of the Chairman or Speaker, a member of the House elected by that House shall take the decision.
Exceptions
The law allows a party to merge with or into another party provided that at least two-thirds of its legislators are in favour of the merger.

In such a scenario, neither the members who decide to merge, nor the ones who stay with the original party will face disqualification.