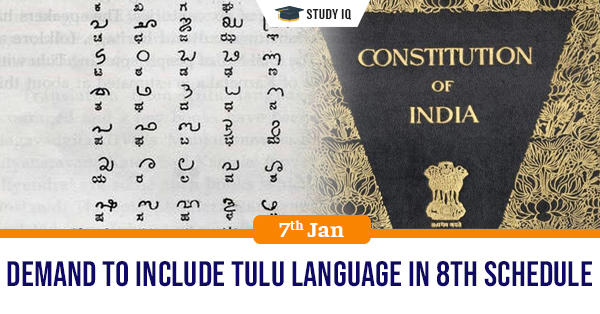 Demand to include Tulu language in 8th schedule
Date: 07 January 2020
Tags: Constitution
Issue
A petition has been floated to include Tulu language in the 8th schedule of the constitution, which will give it constitutional protection.
Background
Tulu is a Dravidian language whose speakers are concentrated in two coastal districts of Karnataka and in Kasaragod district of Kerala. Tulu is also termed one of the most highly developed languages of the Dravidian family.
Details
Among the legion of languages in India, the Constitution has 22 blue-eyed languages. They are protected in Schedule VIII of the Constitution.
Benefits
At present, Tulu is not an official language in India or any other country. Efforts are being made to include Tulu in the Eighth Schedule of the Constitution.

If included in the Eighth Schedule, Tulu would get recognition from the Sahitya Akademi.

Tulu books would be translated into other recognised Indian languages. Members of Parliament and MLAs could speak in Tulu in Parliament and State Assemblies, respectively.

Candidates could write all-India competitive examinations like the Civil Services exam in Tulu.
Way Ahead
Placing of all the deserving languages on equal footing will promote social inclusion and national solidarity. It will reduce the inequalities within the country to a great extent.
Constitutional provision
Article 29 of the Constitution provides that a section of citizens having a distinct language, script or culture have the right to conserve the same.
8th Schedule
The Eighth Schedule to the Constitution of India lists the official languages of the Republic of India.

The Government of India is now under an obligation to take measures for the development of these languages.

The languages in this schedule include Assamese, Bengali, Bodo, Dogri, Gujarati, Hindi, Kannada, Konkani, Maithili, Malayalam, Manipuri, Marathi, Nepali, Oriya, Punjabi, Sanskrit, Santali, Sindhi, Tamil, Telugu and Urdu.

Of these languages, 14 were initially included in the Constitution. Subsequently, Sindhi was added in 1967 by 21st constitutional amendment act; Konkani, Manipuri and Nepali were added in 1992 by 71st Constitutional Amendment Act; and Bodo, Dogri, Maithili and Santali were added in 2003 by 92nd Constitutional Amendment Act.