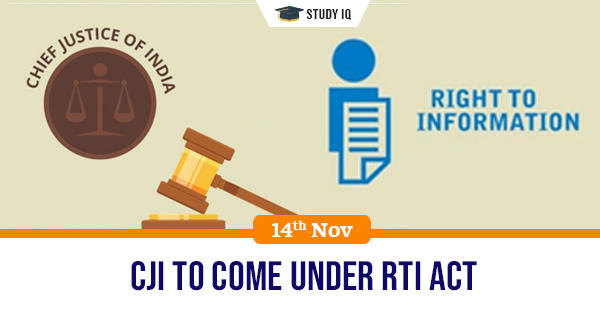 CJI to come under RTI act
Date: 14 November 2019
Tags: Constitution
Issue
The Supreme Court has ruled that the office of the Chief Justice of India is a public authority under the Right to Information Act.
Background
The move to bring the office of the CJI under the transparency law was initiated by RTI activist SC Agrawal.
It is alleged that moves of the CJI such as appointment system through collegium as well as rooster for hearing cases have been shrouded in secrecy and must come out in public domain.
Details
While ruling that the office of the CJI is a public authority, the Supreme Court held that RTI cannot be used as a tool of surveillance and that judicial independence has to be kept in mind while dealing with transparency.

Offices such as those of the Prime Minister and the President too are public authorities under the RTI Act. But public authorities have often denied information quoting separate observations by the Supreme Court.
Chief Justice of India
The Chief Justice of India (CJI) is the head of the judiciary of India and the Supreme Court of India. The CJI also heads their administrative functions.

As head of the supreme court, the chief justice is responsible for the allocation of cases and appointment of constitutional benches which deal with important matters of law
Appointment
Article 124 of the Constitution of India provides the matter of appointing judges of the Supreme Court. No specific provision exists in the Constitution for appointing the Chief Justice, who as a result, is appointed like the other judges conventionally.

The outgoing CJI recommends the name of the senior-most judge (i.e. by date of appointment to the Supreme Court) for appointment by the President of India, as his successor.
Removal
Article 124(4) of Constitution of India lays down the procedure for removal of a Judge of Supreme Court which is applicable to Chief Justice as well.

Once appointed, the Chief Justice remains in the office until the age of 65 years. He can be removed only through a process of impeachment by Parliament.