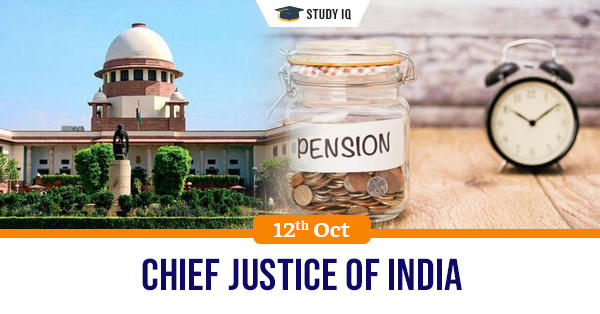 Chief Justice of India
Date: 12 October 2019
Tags: Constitution
Issue
A Supreme Court ruling has stated that a judge who retired as an Acting Chief Justice of a High Court cannot claim the pension of a regular Chief Justice.
Background
The court was handling the case of Justice Rao, who had retired from the Gauhati High Court after serving 14 months as its Acting Chief Justice. The court also ruled that the judge be given pension for the time he served as the Chief justice and not more.
Details
Acting Chief Justice
Article 126 states that when the office of CJI is vacant or when the Chief Justice is by reason of absence or otherwise unable to perform duties of office, the President in such case can appoint Judge of the court to discharge the duties of office.
Retired Judges
Art 128 states that the CJI at any time with the previous consent of the President and the person to be so appointed can appoint any person who had previously held office of a Judge of SC.
Ad-Hoc Judges
Art 127 states that if at any time there is lack of quorum of Judges of Supreme Court, the CJI may with previous consent of the President and Chief Justice of High Court concerned request in writing the attendance of Judge of High Court duly qualified to be appointed as Judge of SC.
Powers of Chief justice
Constitutes the rooster and allocates cases to the benches of judges.

As the head of collegium, he/she appoints judges of Supreme Court and High court.

Judicial representative of appointment committee to select heads of constitutional and statutory body.