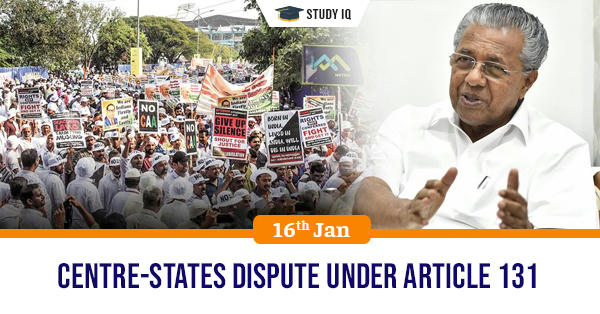 Centre-States dispute under Article 131
Date: 16 January 2020
Tags: Constitution
Issue
Kerala became the first state to challenge the Citizenship (Amendment) Act (CAA) before the Supreme Court. The Kerala government has moved the apex court under Article 131 of the Constitution.
Background
Article 131 has the provision under which the Supreme Court has original jurisdiction to deal with any dispute between the Centre and a state; the Centre and a state on the one side and another state on the other side; and two or more states.
Details
Original jurisdiction (Article 131)
The Supreme Court has three kinds of jurisdictions: original, appellate and advisory.

Under its advisory jurisdiction, the President has the power to seek an opinion from the apex court under Article 143 of the Constitution.

Under its appellate jurisdiction, the Supreme Court hears appeals from lower courts.

In its extraordinary original jurisdiction, the Supreme Court has exclusive power to adjudicate upon disputes involving elections of the President and the Vice President, those that involve states and the Centre, and cases involving the violation of fundamental rights.

For a dispute to qualify as a dispute under Article 131, it has to necessarily be between states and the Centre, and must involve a question of law or fact on which the existence of a legal right of the state or the Centre depends.

Article 131 cannot be used to settle political differences between state and central governments headed by different parties.

The Centre has other powers to ensure that its laws are implemented. The Centre can issue directions to a state to implement the laws made by Parliament.

If states do not comply with the directions, the Centre can move the court seeking a permanent injunction against the states to force them to comply with the law.

Non-compliance of court orders can result in contempt of court, and the court usually hauls up the chief secretaries of the states responsible for implementing laws.