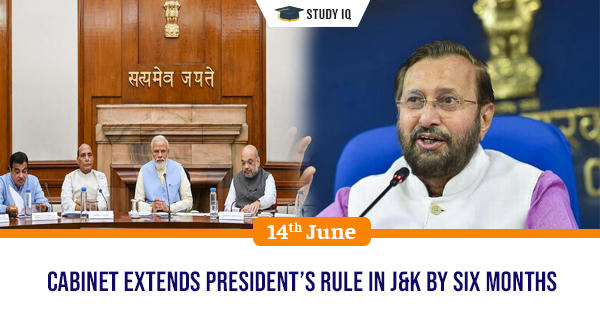 Cabinet extends President's Rule in J&K by six months
Date: 14 June 2019
Tags: Constitution
Union Cabinet chaired by Prime Minister Narendra Modi has approved extension of President's Rule in Jammu and Kashmir for further period of six months with effect from 3 July, 2019, under article 356(4) of the Constitution of India. The extension comes based on recommendation of Governor based on the prevailing situation in the state as stated in the report. The present term of President's Rule is expiring on 2nd July, 2019. Now resolution seeking approval of parliament for the same will be moved in both the houses of parliament during the forthcoming session.
Governor's Rule in Jammu & Kashmir
In case of failure of constitutional machinery in any other state of India, President's Rule under Article 356 of the Constitution is directly imposed (bringing state under Centre's rule).

However, in case of failure of constitutional machinery J&K, Governor's Rule (it is different from President's Rule) is imposed for period of six months in the state as per Section 92 of J&K Constitution (only after the consent of the President of India).

During the Governors rule, State Legislative Assembly is either suspended or dissolved and the state completely comes under direct Central rule through Governor.

If the Constitutional machinery in state is not restored before expiry of this six month period of Governor's Rule, then provisions of Article 356 of Constitution of India (dealing with President's) are extended to J&K and President's rule is imposed in the State.
Article 356 (President's Rule)
It empowers President of India to issue a proclamation of Present's Rule (or State Emergency), if he is satisfied that situation has arisen in which government of a state cannot be carried on in accordance with provisions of Constitution. It is also called Constitutional Emergency as it deals with failure of constitutional machinery in State. The President can act in accordance with or without the report of Governor of state.
Duration of President's Rule in a state: Once proclaimed, it can continue for period of 6 months at a time and after that it has to be extended for another six month term with approval of both houses of Parliament (Lok Sabha and Rajya Sabha), but this can be for maximum period of 3 years.