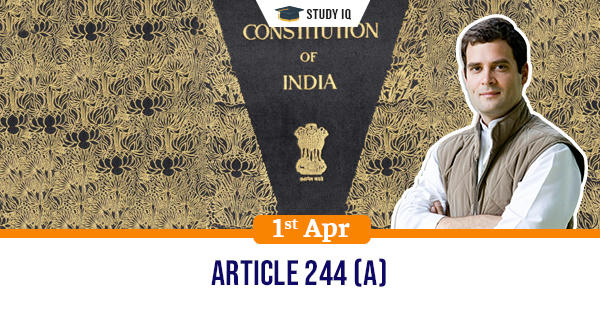 Article 244 (A)
Date: 01 April 2021
Tags: Constitution
Issue
Congress leader Rahul Gandhi has promised to implement Article 244 (A) in hill districts of Assam to protect their interests.
Background
Tribal majority districts of Karbi Anglong, Dima Hasao etc have special feature that allows Indian constitution to safeguard their interests.
Details
Article 244 (A) allows creation of an autonomous state within the state of Assam in tribal areas. This article was inserted in 1969 and also allows setting up of a Legislature and a Council of Ministers.
The Sixth schedule
Articles 244(2) and 275(1) in the sixth schedule provide special provision that allows greater political autonomy and decentralised governance in north-east tribal areas through autonomous councils.

Dima Hasao, Karbi Anglong and West Karbi and the Bodo Territorial Region are the areas that have such a provision.
Article 244 (A)
This article provides more power to tribal areas, including control over law and order. Autonomous councils do not have jurisdiction of law and order.
The start of demand
A demand for separate state for hill areas arose in 1950s. After a long struggle, Meghalaya was created. Leaders from Assam hill districts were also part of the movement.

The leaders of the Karbi Anglong and North Cachar Hills were given the option to stay in Assam or join Meghalaya.

They agreed to stay back in Assam as the then government promised to give more powers, including Article 244 (A).

The demand turned into a separatist movement that took a form of violent armed struggle. Recently, large numbers of militant groups of Karbi Anglong district have surrendered.