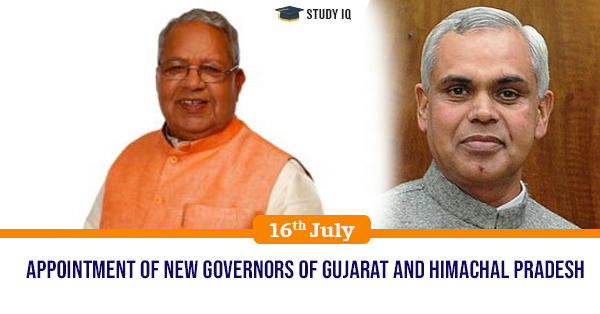 Appointment of new Governors of Gujarat and Himachal Pradesh
Date: 16 July 2019
Tags: Constitution
President Ram Nath Kovind has confirmed appointment of Kalraj Mishra and Acharya Dev Vrat as Governors of Himachal Pradesh and Gujarat respectively. Kalraj Mishra (78) had served as Union Cabinet Minister for Micro, Small and Medium Enterprises (MSME) during first tenure of the Modi government. He succeeds Acharya Devvrat as Governor of Himachal Pradesh who has been transferred to Gujarat after incumbent Governor of Gujarat, O.P. Kohli retired.
Kalraj Mishra: He had served as Union Cabinet Minister for MEME during the first tenure of the Modi government. He was elected as Member of Parliament (Lok Sabha) from Deoria constituency in Uttar Pradesh. He has also served as a Member of Rajya Sabha three times. He had not contested Lok Sabha polls 2019.
Acharya Dev Vrat: He hails from a non-political background. He was first appointed Governor of Himachal Pradesh in August 2015. He has been credited for taking concrete steps against a number of social evils, including drug abuse in the state. He had served as principal of a Gurukul in Kurukshetra (Haryana). He is Arya Samaj pracharak and had taken up social issues such as those of farmers, village upliftment, drug-free society, Ayurveda and naturopathy and organic farming.
Governors in India
The articles relating to Governors of states can be found in provision Articles 152-162 of the Constitution of India.
Article 153:

It mandates Governor for each state. The same person as governor for two or more states (it was facilitated by 7th Constitutional Amendment Act, 1956).

Article 155:

Governor is appointed by President of India by warrant under his hand and seal. By convention, it is done on the recommendation of Prime Minister of India.

Eligibility:

He/she should be at least 35 years of age (Article 157) and not hold any other office of profit (Article 158).

Tenure of a Governor

: There is no fixed tenure of the governor and he/she holds office at pleasure of the President.