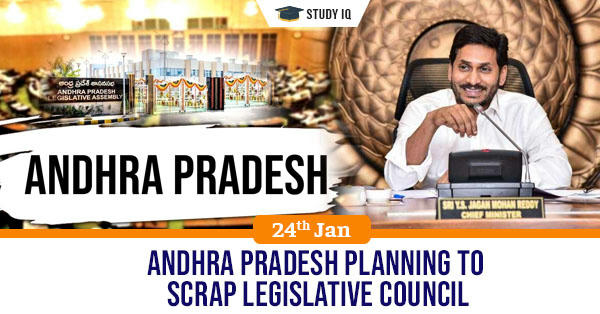 Andhra Pradesh planning to scrap Legislative Council
Date: 24 January 2020
Tags: Constitution
Issue
The Andhra Pradesh government is contemplating abolishing the Legislative Council after CM Jagan Mohan Reddy complained about stalled bills in the council by the opposition.
Background
The CM observed that the Council was working with a political agenda, which was evident from the rejection of two Bills on the formation of separate SC and ST Commissions and the introduction of English medium in government schools.
Details
Legislative Council or Vidhan Parishad is the upper house in bicameral legislatures in some states of India.

Only six States in India had Councils and in A.P., the expenditure on it came to ?60 crore per year.
Abolishing Legislative council
Notwithstanding anything in Article 168, Parliament may by law provide for the abolition of the Legislative Council of a State having such a Council or for the creation of such a Council in a State having no such Council, if the Legislative Assembly of the State passes a resolution to that effect by a majority of the total membership of the Assembly and by a majority of not less than two-thirds of the members of the Assembly present and voting.

No such law as aforesaid shall be deemed to be an amendment of this Constitution for the purposes of Article 368.
Election of Legislative Council
Total Number of the Legislative Council should not exceed the 1/3rd of the total number of members of the Legislative assembly, but it should not be less than 40.

The legislative council is permanent body but 1/3rd of its member retire every 2 years.

In legislative Council, there are 5 different categories of representation.
1/3rd of the total membership is elected by the electorates consisting of the members of the self Governing bodies in the state such as Municipalities, District Boards etc.

1/3rd members are elected by the members of the Legislative assembly of the State.

1/12th members are elected by an electorate of University Graduates.

1/12th members are elected by the electorate consisting of the secondary school teachers (3 year experience).

1/6th members nominated by the Governor on the basis of their special knowledge / practical experience in literature, art, science, cooperative movement or social service.
Eligibility
To be eligible for membership of the Legislative council, a person Must be citizen of India Must have completed the age of 30 years Must possess such other qualifications as prescribed by the parliament by law.

The member should not hold the office of the profit. Should not be of unsound mind and should not be an undischarged insolvent.