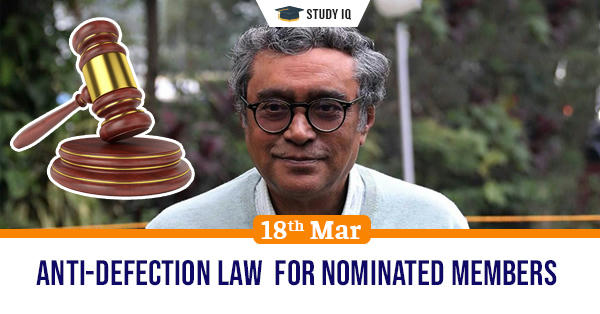 Anti-defection law for nominated members
Date: 18 March 2021
Tags: Constitution
Issue
Nominated member of Rajya Sabha, Swapan Dasgupta has resigned from the position to contest assembly elections from Bengal.
Background
The MP was compelled to resign after it was pointed that nominated member joining a political party will be punishable under anti-defection law.
Details
Nominated membership for Rajya Sabha was created for individuals who might not win elections but can bring knowledge and expertise to discussions in the Upper House.

Presently, the President can nominate 12 members to the upper house from different fields such as literature, science, art, and social service.

Nominated members have the same rights and privileges as elected members. However, they have one exemption that they cannot vote in the election of the President.
Anti-defection law
The anti-defection law was brought in 1985 under the Tenth Schedule of the constitution to bring stability to elected government by preventing elected members from switching parties.

The punishment for shifting political party is the loss of house membership and a bar on becoming a minister.
Conditions for anti-defection law
When a member elected on a political party ticket "voluntarily" gives up membership of the party.

If an elected member of a political party votes contrary to the directions of the party or violates its whip.

A member who won the seat as an independent candidate but joins a political party after the elections.

In case of nominated members, they can be disqualified if they join a political party after six months of getting nominated.
Case of Dasgupta
Dasgupta was nominated to Rajya Sabha in 2016 but he did not join any political party within six months. If he joins a political party, which he should, for contesting elections then he can be disqualified.