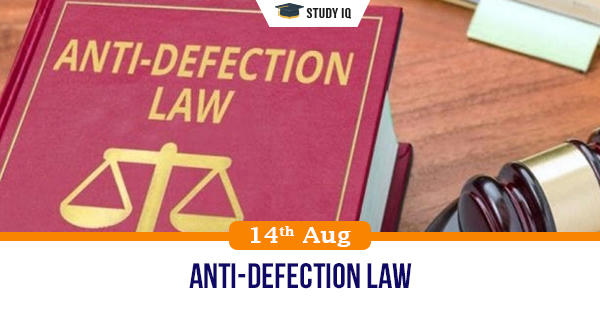 Anti-defection law
Date: 14 August 2020
Tags: Constitution
Issue
The political crises in Manipur and Rajasthan, shows that the constitutional provisions related to the anti-defection law have been reduced to a joke.
Background
The anti-defection law is supposed to deter MLAs from defecting from their political parties. They can lose their seats in the legislature for defying their party. And if declared a defector, they cannot become a minister in a government for six months.
Details
The anti-defection law sought to prevent political defections which may be due to reward of office or other similar considerations.

The 10th Schedule of the Indian Constitution popularly referred to as the 'Anti-Defection Law' was inserted by the 52nd Amendment (1985) to the Constitution.

It lays down the process by which legislators may be disqualified on grounds of defection by the Presiding Officer of a legislature based on a petition by any other member of the House.
Grounds for disqualification
If an elected member gives up his membership of a political party voluntarily.

If he votes or abstains from voting in the House, contrary to any direction issued by his political party.

If any member who is independently elected joins any party.

If any nominated member joins any political party after the end of 6 months.

The decision on disqualification questions on the ground of defection is referred to the Speaker or the Chairman of the House, and his/her decision is final.
Exceptions
In the situation where two-thirds of the legislators of a political party decide to merge into another party, neither the members who decide to merge, nor the ones who stay with the original party will face disqualification.

Any person elected as chairman or speaker can resign from his party, and rejoin the party if he demits that post.
Originally, the Act provided that the presiding officer's decision was final and could not be questioned in any court of law. But, in Kihoto Hollohan case (1993), the Supreme Court declared this provision as unconstitutional on the ground that it seeks to take away the jurisdiction of the SC and the high courts.

There is no time limit as per the law within which the Presiding Officers should decide on a plea for disqualification. The courts also can intervene only after the Officer has made a decision.