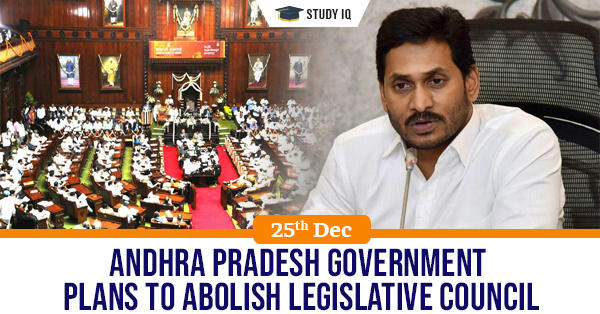 Andhra Pradesh government plans to abolish Legislative
Date: 25 December 2019
Tags: Constitution
Issue
The State government is contemplating abolishing the Legislative Council and the proposal is likely to come up for discussion at the Cabinet meeting.
Background
The TDP, which has a mojority in upper house, stalled two important Bills by incorporating certain amendments and sending them back to the Assembly. This has made the government think about abolishing council.
Details
The Legislative Council is the upper house in those states of India that have a bicameral legislature; the lower house being the State Legislative Assembly.

Its establishment is defined in Article 169 of the Constitution of India. At present, Uttar Pradesh, Bihar, Telangana, Andhra Pradesh, Maharashtra and Karnataka have a legislative council.

Each Member of the State Legislative Council (MLC) serves for a six-year term, with terms staggered so that the terms of one third of a State Legislative Council's membership expire every two years.

This arrangement parallels that for the Rajya Sabha, the upper house of the Parliament of India.

MLC must be a citizen of India, at least 30 years old, mentally sound, not an insolvent, and must be enrolled on the voters' list of the state for which he or she is contesting an election. He or she may not be a Member of Parliament at the same time.

The size of the State Legislative Council cannot be more than one third of the membership of the State Legislative Assembly. However, its size cannot be less than 40 members.
Membership of Legislative councils
One third are elected by the members of local bodies such as municipalities, Gram panchayats, Panchayat samitis and district councils.

One third are elected by the members of Legislative Assembly of the State from among the persons who are not members of the State Legislative Assembly.

One sixth are nominated by the governor from persons having knowledge or practical experience in fields such as literature, science, arts, the co-operative movement and social service.

One twelfth are elected by persons who are graduates of three years' standing residing in that state.

One twelfth are elected by persons engaged for at least three years in teaching in educational institutions within the state not lower than secondary schools, including colleges and universities.