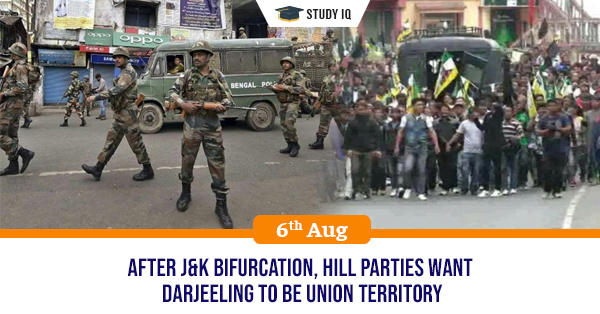 After J&K bifurcation, hill parties want Darjeeling to be Union territory
Date: 06 August 2019
Tags: Constitution
Context: The Centre's decision to revoke provisions of Article 370 and bifurcate Jammu and Kashmir has rekindled hope among the major hill parties, which want that Darjeeling should also be a separate Union territory with a legislature.
Highlights:
The GJM's (Gorkha Janamukti Morcha) call for Darjeeling to be a Union territory was backed by the Gorkha National Liberation Front (GNLF), which felt it would be the most suitable solution for the problem.
The views of the GJM and the GNLF also found support from several smaller outfits in the hills.
Background:
Darjeeling is a picturesque hill town and the area is ethnically dominated by the Gorkhas. The place, known for its world-renowned tea, is also inhabited by the Lepchas, Sherpas, Bhutias among others.
The demand for a separate state was first made in the 1980s, with the Subhas Ghisingh-led GNLF launching a violent agitation in 1986, which went on for 43 days and led to the death of 1,200 people in the hills.
The movement culminated in the formation of the Darjeeling Gorkha Hill Council in 1988, following the intervention of then prime minister Rajiv Gandhi and West Bengal chief minister Jyoti Basu.
Several political parties have over the years promised the people of the hills a separate state and implementation of the sixth schedule, which grants more autonomy to a region.
The separate statehood demand gained momentum yet again in 2007 after the formation of the GJM, under the leadership of Bimal Gurung, who was once a trusted aide of Ghisingh.
After the TMC took over the reins of the state in 2011 by ending the 34-year Left rule, the Gorkhaland Territorial Administration (GTA) was formed with Gurung as its chief.
But, peace was short-lived in the area as Gurung led an agitation in support of the statehood demand, first in 2013, and then engineered a 104-day-long strike in 2017, accusing the TMC government of trying to "wipe out" Gorkha identity.