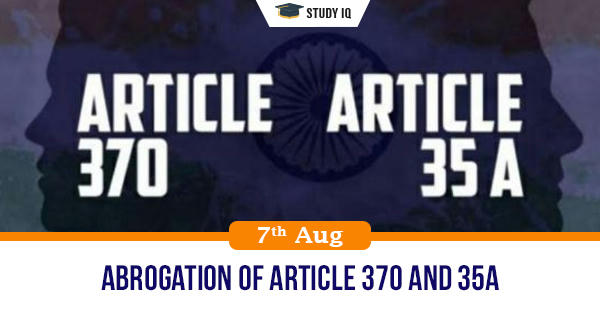 Abrogation of Article 370 and 35A
Date: 07 August 2020
Tags: Constitution
Issue
August 5 marked the first anniversary of the abrogation of the special status of Jammu and Kashmir and conversion of the erstwhile state into two Union Territories — Jammu and Kashmir and Ladakh.
Background
Union government has tried to ensure that everyone living in the two Union Territories would get a sense of the egalitarian principles that are firmly embedded in India's Constitution.
Details
These developments extend to a wide range of issues like social and political equality, education, jobs, reservations, and other rights enjoyed by the underprivileged in the rest of the country.

For the first time after seven decades, the Indian Constitution and all the 890 Central laws are fully applicable to J&K.

This has meant the application of 170 more Central laws to J&K, including progressive laws such as the Scheduled Caste and the Scheduled Tribes (Prevention of Atrocities) Act, 1954, the Whistle Blowers Protection Act, 2014.

In addition, the National Commission for Safai Karamcharis Act, 1993, the Scheduled Tribes and Other Traditional Forest Dwellers (Recognition of Forests Rights) Act, 2007, the National Commission for Minorities Act and the Right of Children to Free and Compulsory Education Act, 2009 will be applicable.

The follow-up after the constitution of the two Union Territories has been swift. Simple rules have been formulated for issuing domicile certificates and this will create a much-needed level-playing field for all residents.

The J&K government has also initiated a massive recruitment drive to fill up 10,000 vacancies in the local government; another drive to fill up 25,000 posts is in the pipeline.

Also on the anvil are revised rules to enable the hitherto disadvantaged groups like Scheduled Tribes, OBCs, and economically weaker sections to get employment.

Other measures which have ensured mainstreaming of the region are the enforcement of the Right to Information Act, 2005, direct supervision of the Central Vigilance Commission with regard to anti-corruption cases and the setting up of the 18th Bench of the Central Administrative Tribunal (CAT) for the UTs of J&K and Ladakh.