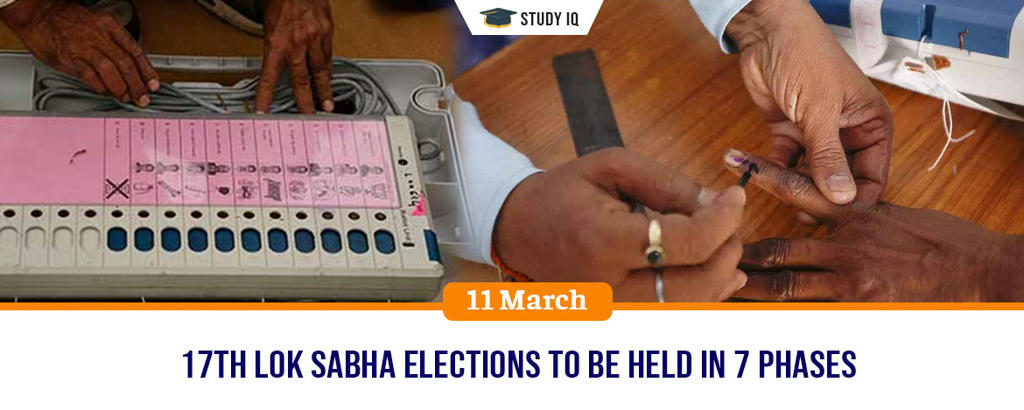 17th Lok Sabha elections to be held in 7 phases
Date: 11 March 2019
Tags: Constitution
Election Commission of India (ECI) has announced that 17th Lok Sabha elections will begin from 11th April 2019 and will be held till 19th May 2019. Voting will be conducted in 7 phases and counting will be held on 23 May 2019, ten days before term of current 16th Lok Sabha ends. It will be world's biggest democratic exercise. With announcement of election dates, Model Code of Conduct (MCC) come into force in the entire country.
Highlights of 17th Lok Sabha elections
Total 90 crore electorates (81.45 crore in 2014) of 29 states and 7 Union territories will elect 543 Lok Sabha members in these seven phases.

VVPATs (voter verified paper audit trails) will be used along with Electronic Voting Machines (EVMs) will be used in all polling stations across the country.

22 states/UTs will have single phase elections, while 4 states will go to polls in two phases.

Elections Assam and Chhattisgarh, and Jharkhand will be conducted in three phases.

In Maharashtra and Odisha polls will be conducted in four phases. Jammu and Kashmir will have five phases.

West Bengal, Bihar and Uttar Pradesh will have seven phases.

Simultaneous assembly elections along with Lok Sabha elections will be held in four states viz. Andhra Pradesh, Odisha, Sikkim and Arunachal Pradesh.
Phases of 17th Lok Sabha elections
1st phase (April 11): It will cover 91 Parliamentary constituencies in 20 states.

2nd phase (April 18): It will cover 97 Parliamentary constituencies in 13 states.

3rd phase (April 23): It will cover 115 constituencies in 14 states.

4th phase (April 29): It will cover 71 constituencies in 9 states.

5th phase (May 6): It will cover 51 constituencies in seven states.

6th phase (May 12): It will cover 59 seats in 7 states.

7th phase (May 9): It will cover 59 constituencies in 8 states
J&K Assembly elections
There will be no simultaneous assembly elections in Jammu and Kashmir along with Lok Sabha elections for security reasons.

Election Commission has appointed three special observers (committee) for effective monitoring of Lok Sabha polls in Jammu and Kashmir.

Based on report submitted by these special observers timing of J&K assembly elections will be announced.