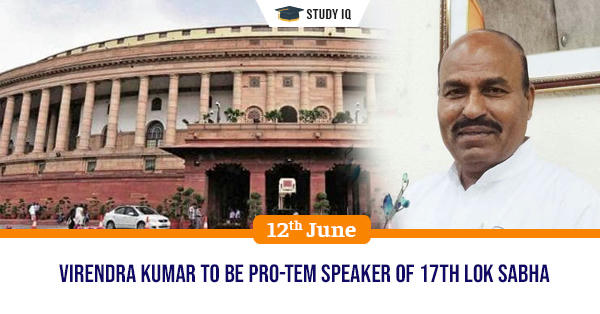 Virendra Kumar to be Pro-tem Speaker of 17th Lok Sabha
Date: 12 June 2019
Tags: Commissions & Committees
President Ram Nath Kovind has approved appointment of senior Lok Sabha MP Virendra Kumar (65) as Pro-tem Speaker of the 17th Lok Sabha. He is seven-term member of Parliament (Lok Sabha) and had won in recently concluded Lok Sabha polls from Tikamgarh constituency from Madhya Pradesh. He will preside over the first sitting of the Lok Sabha as Pro-tem Speaker. He will also administer oath of office to newly elected Lok Sabha MPs.
Note: The first session of newly-constituted 17th Lok Sabha will be held from June 17 to July 26, 2019. Election for Lok Sabha Speaker is scheduled to be held on June 19, 2019.
About Virendra Kumar
He was elected for the first time in 11th Lok Sabha (1996) from Sagar constituency of Madhya Pradesh and was member of Standing Committee on Labour and Welfare.

Later he was re-elected consecutively six times to the 12th, 13th, 14th, 15th, 16th and 17th Lok Sabha. He has served as member and Chairmen of various committees.

He was also Union Minister of State (MoS) for Women and Child Development and Minority Affairs from September 2017 to May 2019.
About Protem Speaker
He/she is appointed by President of India to perform duties of Speaker from commencement of first sitting of newly constituted Lok Sabha till the election of a new Speaker.

By tradition the most senior most Member of Lok Sabha (i.e. having the most experience) is appointed as protem speaker.

Literal meaning: Protem is abbreviated form of Pro tempore. It is Latin phrase which means "for the time being" in English.
Constitutional Provisions
Article 94(2) of constitution:

It states that office of Speaker becomes vacant immediately before the first meeting of the new Lok Sabha.

Article 95(1):

It states that while office of Speaker and deputy speaker is vacant, the duties of the office will be performed by such member of Lok Sabha (House of the People) appointed by President

Note:

Similar constitutional provisions exist for State Legislative Assembly under Article 183 (2) and Article 184 (1) of the Constitution.

The appointment of pro-tem speaker is convention and there is no provision for it in the Constitution. However, its reference can be taken in Article 94 (2), to fill up temporary vacancy.

Appointment and oath:

President appoints and administers the oath to protem speaker in case of Lok Sabha. In the case of state legislative assembly, Governor of State performs this task. He is usually chosen with the agreement of the members of the Lok Sabha and legislative assembly.

Functions and Powers of Pro-tem speaker:

(i) Administer oath of newly elected members. (ii) Presid over the election of new Lok Sabha speaker. (iii) Pro-tem speaker has all the powers of the speaker. (iv) He also administers the floor test.

Duration of term:

This office is temporary office, existing for a few days till new speaker is elected by the house. Thus, when new Lok Sabha speaker is elected, tenure of pro-tem speaker automatically ceases to exist.

Note:

Kamal Nath was Pro-tem Speaker of 16th Lok Sabha,