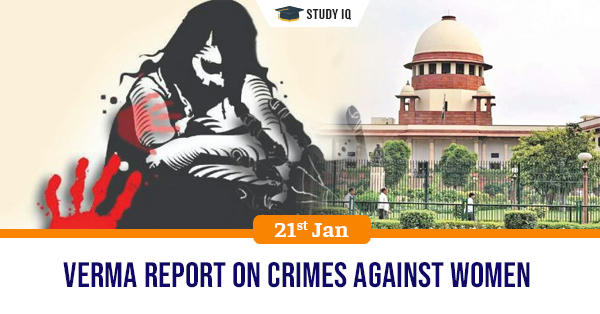 Verma report on crimes against women
Date: 21 January 2020
Tags: Commissions & Committees
Issue
The Supreme Court has asked the Centre to respond to a plea filed by a law student seeking the implementation of the Justice J.S. Verma Committee report on crime against women and children.
Background
The report was submitted to the then Prime Minister on January 23, 2013 on various aspects of crime against women and children. The committee was formed after the Nirbhaya rape and murder incident in the national capital in December 2012 to suggest various measures to check increasing crimes against women.
Details
The litigant said that, though the report was submitted on January 23, 2013 to the Union of India, a majority of the recommendations were not implemented even after passage of seven long years.

This has resulted in unrest among citizens more particularly victims/parents of rape and sexual harassment.

The increase in rape and sexual harassment incidents across the country and delay in punishing the culprits had been motivating the "instant justice" concept.
J.S.Verma report highlights
Punishment for Rape: The panel has not recommended the death penalty for rapists. It suggests that the punishment for rape should be rigorous imprisonment or RI for seven years to life.

Juvenile age should not be lowered.

Punishment for other sexual offences: The panel recognised the need to curb all forms of sexual offences and recommended - Voyeurism be punished with upto seven years in jail.

Registering complaints and medical examination: Every complaint of rape must be registered by the police and civil society should perform its duty to report any case of rape coming to its knowledge.

Marriages to be registered: As a primary recommendation, all marriages in India (irrespective of the personal laws under which such marriages are solemnised) should mandatorily be registered in the presence of a magistrate.

Political Reforms: The Justice Verma committee observed that reforms are needed to deal with criminalisation of politics.

If a woman ends up killing a rapist, she should claim right to self defence

Need to review Armed Forces Special Powers Act.

Try security personnel facing rape charges under ordinary law.

Trafficking of minors should be a serious offence.