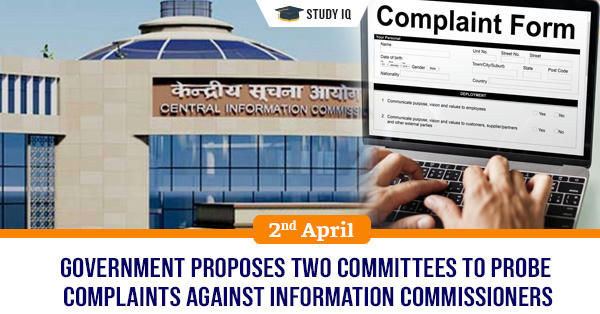 Government proposes two committees to probe complaints against Information Commissioners
Date: 02 April 2019
Tags: Commissions & Committees
Department of Personnel and Training (DoPT) has proposed to constitute two bureaucratic committees to probe and decide on complaints against Chief Information Commissioner (CIC) and Information Commissioners (ICs).
DoPT Proposal
It envisages setting up of two committees — one, to receive and decide on complaints against CIC and second one for complaints against ICs.

Committee for CIC:

It will comprise of Cabinet Secretary; DoPT Secretary and retired CIC.

Committee for ICs:

It will include Secretary (Coordination) in Cabinet Secretariat; DoPT Secretary, and retired IC.
Central Information Commission's Response
The full Commission — CIC plus at least five ICs — meeting has unanimously opposed DoPT proposal. It considers that will take away the independence of an institution and will make Commission more vulnerable to government pressure and is an attempt by political dispensation to influence working of ICs.
Current Mechanism
As of now, after complaint is received against any IC, the convention is to place it in Commission's meeting. It has been conventional practice that CIC attends to complaints against ICs. If there is complaint against CIC, then it is attended to by the sitting Information Commissioners.
CIC, ICs appointment/removal mechanism
The Information Commissioners, including CIC, carry same status as judges of the Supreme Court.

They are appointed by President of India based on recommendations of committee chaired by the Prime Minister and including the Leader of Opposition in the Lok Sabha and Union Cabinet Minister nominated by the PM.
Section 14 (1) of Right to Information (RTI) Act
It states that CIC and ICs can be removed only by President based on recommendation of Supreme Court on ground of proved misbehaviour or incapacity. For this, President requests Supreme Court to make inquiry for further action.
Section 14 (3) of RTI
President can remove Commissioner if he/she is adjudged insolvent, has been convicted of offence which involves moral turpitude, engages during his/her term of office in any paid employment outside.

He/she may be also removed if found unfit to continue in office by reason of infirmity of mind or body or has acquired such financial or other interest as is likely to affect prejudicially his/her functions as the CIC or an IC.