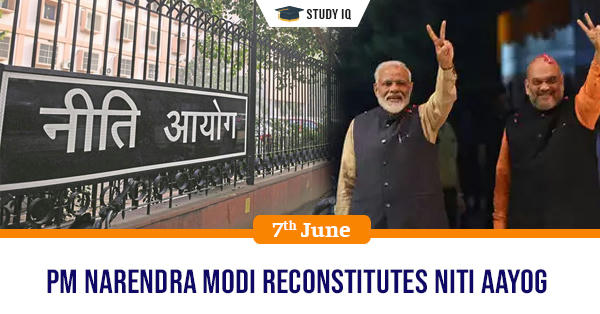 PM Narendra Modi reconstitutes NITI Aayog
Date: 07 June 2019
Tags: Commissions & Committees
Prime Minister Narendra Modi has approved reconstitution of National Institution for Transforming India (NITI Aayog). Reconstitution of NITI Aayog comes ahead of its Governing Council's meeting to be chaired by Prime Minister to discuss various issues relating to economy, agriculture and security among others.
Composition of NITI Aayog
Chairperson:

Prime Minister Narendra Modi.

Vice Chairman:

Rajiv Kumar.

Full-time members:

V K Saraswat, Ramesh Chand and Dr V K Paul. All are its previous members (Only Bibek Debroy's name not figuring in the new list).

Ex-Officio Members:

Home Minister Amit Shah, Defence Minister Rajnath Singh, Finance Minister Nirmala Sitharaman and Agriculture Minister Narendra Singh Tomar.

Special Invitees:

Road, Transport and Highways Minister Nitin Gadkari, Rail Minister Piyush Goyal, Social Justice and Empowerment Minister Thaawarchand Gehlot and Statistics and Programme Implementation Minister Rao Inderjit Singh.
About NITI Aayog
It was established via Union Cabinet resolution on January 1, 2015 as premier Policy Think Tank of the Union Government.

It is extra-constitutional, non-statutory and advisory body. It had replaced Planning Commission of India.

It acts as Resource Centre & Knowledge Hub, design policy & programme framework, foster cooperative federalism and monitors and evaluation government

Objectives: (i) It works as advisory body to give directional and strategic inputs to Union Government and also State governments on request. (ii) It fosters inter-ministry, inter-state and centre-state coordination. (iv) Foster cooperative federalism on principle of strong states make a strong nation. (v) Replaces top-down development approach with bottom-top development approach. (vi) Designs policy framework for weaker section of society that may not have benefited from economic progress. (vii) Create knowledge, innovation and entrepreneurial support system via community of national and international experts, practitioners and partners. (vii) Serve as platform for resolution of inter-sectoral and inter-departmental issues in order to accelerate implementation of development agenda. (vii) Monitor and evaluate implementation of programmes, and focus on technology upgradation and capacity building.

Governing Council of NITI Aayog:

It is composed of Chief Ministers of all States and Union territories with Legislatures and lieutenant governors of Union Territories (except Delhi and Pondicherry).