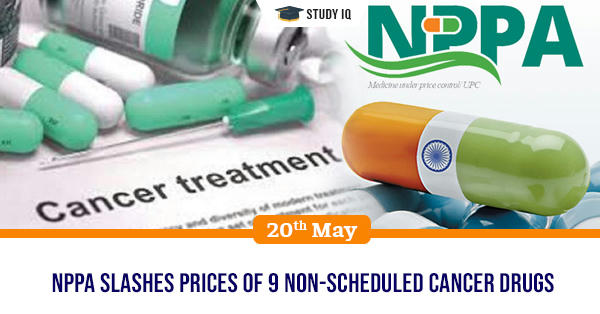 NPPA slashes prices of 9 non-scheduled cancer drugs
Date: 20 May 2019
Tags: Commissions & Committees
National Pharmaceutical Pricing Authority (NPPA) has slashed prices of 9 non-scheduled cancer drugs by up to 87%. The capping of these drug prices is in continuation of government's efforts to curb profiteering on these vital drugs and to make cancer cure affordable for patients and their families. Earlier, in February 2019, the government had capped 42 cancer drugs at 30%.
National Pharmaceutical Pricing Authority (NPPA)
It is apex independent regulatory body that controls and regulatory prices of pharmaceutical drugs in India and ensures availability and accessibility of medicines at affordable prices.
It functions under Department of Pharmaceuticals, Union Ministry of Chemicals and Fertilizers. It was set up in 1997 through Government of India Resolution. It is headquartered in New Delhi.
It advices Central Government in matters related to drug policies and pricing and revisions/changes in drug policy. It also monitors availability of drugs, identify shortages and takes remedial steps.
Mandate: (i) Fix/revise controlled bulk drugs prices and formulations placed in National List of Essential Medicines (NLEM) under Schedule-I of The Drug (Prices Control) Order 2013 (DPCO) (ii) Enforce prices and availability of medicines under DPCO, 2013. (iii) Monitor prices of decontrolled drugs in order to keep them at reasonable levels. (iv) Implements and enforces provisions of DPCO. (v) Recover amounts overcharged by manufacturers for controlled drugs from consumers. (vi) Publish lists of medicines and their maximum ceiling prices.