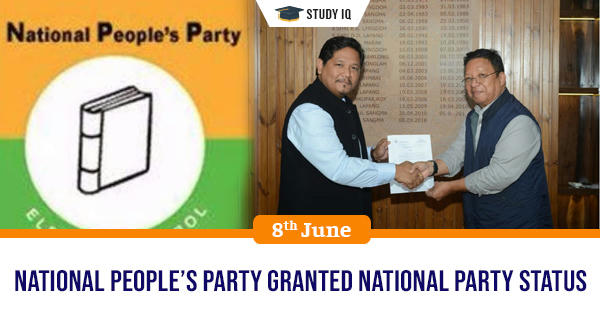 National People's Party granted national party status
Date: 08 June 2019
Tags: Constitution, Commissions & Committees
Election Commission of India (ECI) has declared National People's Party led by Meghalaya Chief Minister Conrad K. Sangma as National Party. With this, NPP became 8th national party in India. Before NPP's elevation, India had seven national parties (Trinamool Congress led by West Bengal Chief Minister Mamata Banerjee was seventh party to get this status in September 2016). This also made NPP first political party from the north-eastern region to get national party status
Other seven national Parties are: Bharatiya Janata Party (BJP), Indian National Congress (INC), All India Trinamool Congress (TMC), Bhaujan Samaj Party (BSP), Communist Party of India (CPI), Communist Party of India (Marxist) and Nationalist Congress Party (NCP).
Background
NPP was given the national party status by ECI after fulfilling conditions under 6B (iii) of Election Symbols (Reservation and Allotment) Order, 1968. It is stipulates that political party can be recognised as a national party if its candidates secure at least6% votes polled in four or more states in Lok Sabha or assembly elections, and, in addition, it has at least four members in the Lok Sabha or being recognised as State party in at least four States. NPP has meet criteria of being recognised as State party in four state viz. Meghalaya, Arunachal Pradesh, Manipur and Nagaland.
Note: Election Commission of India (ECI) is only the entrusted authority in India that grants National Party or State Party status to any political party in the country.