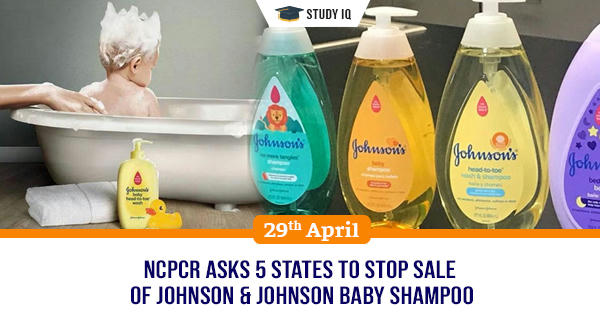 NCPCR asks 5 states to stop sale of Johnson & Johnson baby shampoo
Date: 29 April 2019
Tags: Commissions & Committees
National Commission for Protection of Child Rights (NCPCR) has ordered five states, including Andhra Pradesh, Rajasthan, Assam, Madhya Pradesh and Jharkhand to stop sale of Johnson & Johnson baby shampoo and remove it from stock. This comes this J&J product was tested positive for formaldehyde, which is harmful for the children in tests conducted in Rajasthan.
This decision is aimed at ensuring safety of children. However, it is yet to receive test reports confirming presence of harmful subsance from the other four states. NCPCR has only powers to recommend action, but it is upto state governments and union territories to take call on implementation of recommendation of NCPCR.
What is the issue?
NCPCR had sought sample test reports of J&J's baby shampoo and talcum powder from authorities of five states Andhra Pradesh (south), Madhya Pradesh (central), Rajasthan (west), Jharkhand (east), and Assam (North East) after reports of presence of asbestos and carcinogenic substance in them emerged. After that it had received reports only of baby shampoo containing harmful formaldehyde from Rajasthan. However, it has not yet received test reports from the other four states. It had asked Drug Control Officer of Rajasthan to send test report of the talcum powder at the earliest.
National Commission for Protection of Child Rights (NCPCR)
It is statutory body established in 2007 under Commissions for Protection of Child Rights Act, 2005.

It functions under administrative control of Union Ministry of Women & Child Development. It is headquatered in New Delhi.

Mandate

: (i) Protect, promote and defend child rights in India.

(ii) Ensure that all Laws, Policies, Programmes, and Administrative Mechanisms are in consonance with Child Rights perspective as enshrined in Constitution of India and also United Nations Convention on the Rights of Children, 1989, ratified by India in 1992. (This convention defines child as a human being below 18 years of age).