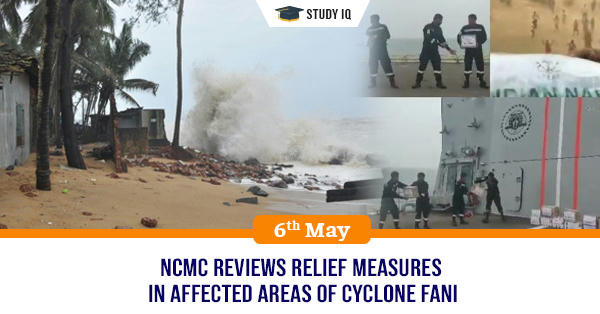 NCMC reviews relief measures in affected areas of Cyclone Fani
Date: 06 May 2019
Tags: Commissions & Committees
National Crisis Management Committee (NCMC) headed by Cabinet Secretary PK Sinha had reviewed relief measures in Cylone Fani affected areas in Odisha, West Bengal and Andhra Pradesh. This extremely severe cyclonic storm had made landfall in temple town of Puri in Odhsa and had affected eastern coast of India. It had done major damages to power transmission and distribution systems are reported in Bhubaneswar and Puri.
NCMC meeting
Chief Secretaries, Principal Secretaries of Andhra Pradesh, Odisha and West Bengal had participated in this NCMC meeting through video conference.
During this meeting, Odisha government has informed that power and telecommunication facilities are gradually being restored in the cyclone affected areas of the state and work is on war footing to restore power connections.
National Crisis Management Committee (NCMC)
It is one of the key committee involved in top-level decision-making at national level wrt Disaster Management (DM). Other one is Cabinet Committee on Security (CCS) chaired by Prime Minister.
Composition of NCMC: Union Cabinet Secretary is its Chairperson. It includes secretaries of Ministries/Departments and agencies with specific Disaster management responsibilities as its members.
Key functions
It deals with major crisis which may have serious or national ramifications.

It oversees command, control and coordination (CCC) of the disaster response at national level.

It gives direction to Crisis Management Group (CMG) as deemed necessary.