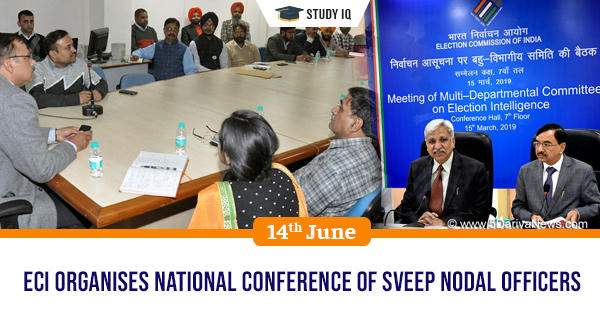 ECI organises National Conference of SVEEP Nodal Officers
Date: 14 June 2019
Tags: Constitution, Commissions & Committees
Election Commission of India (ECI) had organized two-day National Conference of SVEEP Nodal Officers at TERI Retreat in Gurugram, Haryana to deliberate upon the blueprint for the next five years. It had seen participation of SVEEP Nodal Officers from across the country and shared their state experiences, challenges faced, good practices as well as case studies
Systematic Voters' Education and Electoral Participation (SVEEP) program
It is the flagship program of Election Commission of India for voter education, spreading voter awareness and promoting voter literacy in India.

It was launched in 2009 as IEC (Information, Education, and Communication) interventions in the Jharkhand elections of end-2009 and was later revamped in 2010 and given its present name.

Since then, it is working towards preparing India's electors and equipping them with basic knowledge related to the electoral process.

Objective:

Promote voter education, spread voter awareness and promote voter literacy in India.

Primary goal

: Build truly participative democracy in India by encouraging all eligible citizens to vote and make an informed decision during the elections.

Features:

It is based on multiple general as well as targeted interventions which are designed according to socio-economic, cultural and demographic profile of the state as well as the history of electoral participation in previous rounds of elections and learning thereof.