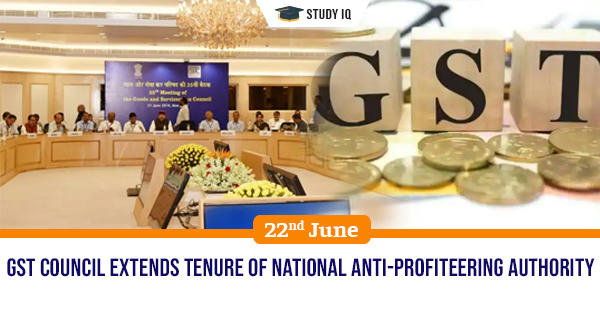 GST council extends tenure of National Anti-Profiteering Authority
Date: 22 June 2019
Tags: Commissions & Committees
The 35th meeting of Goods and Services Tax (GST) Council chaired by Finaince Minister Nirmala Sitharaman has extended the tenure of National Anti-Profiteering Authority (NAA) by two years. NAA's term, which was coming to end on November 30, 2019 and now has been extended to November 30, 2021. GST Council also has decided to impose additional payment in case the profiteered amount is not deposited within a month.
About National Anti-Profiteering Authority (NAA)
It is statutory body constituted under Section 171 of Central Goods and Services Tax (CGST) Act, 2017. It was formed in November 2017 in the wake of rate-reduction of large number of items by GST Council in its 23rd meeting at Guwahati, Assam.

Core mandate:

To ensure that benefits of reduction is GST rates on goods and services made by GST Council and proportional change in Input tax credit passed on to consumers and recipient respectively by way of reduction in the prices by the suppliers.

Composition of NAA:

It is headed by senior officer of level of Secretary to Union Government. It has four technical members from Centre and/or States. Chairman and four members should be less than 62 years of age.

Powers and functions of NAA:

(i) Ensure that traders are not realizing unfair profit by charging high price from consumers in the name of GST. (ii) Examine and check such profiteering activities and recommend punitive actions including cancellation of Registration. (iii) Ensure reduction in rate of tax or benefit of input tax credit is passed on to the recipient by way of commensurate reduction in prices.