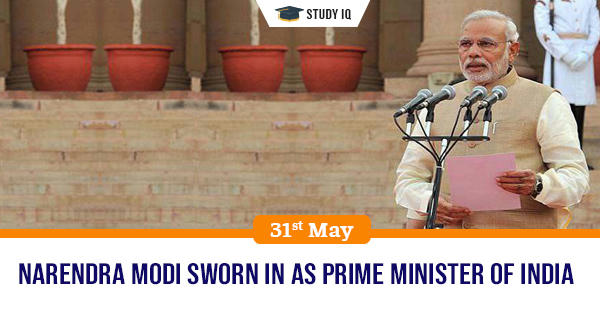 Narendra Modi sworn in as Prime Minister of India
Date: 31 May 2019
Tags: Constitution, Commissions & Committees
National Democratic Alliance leader Narendra Modi was sworn in as 15th Prime Minister for a second five-year term. He was administered oath of Office and Secrecy President Ram Nath Kovind at ceremony held at courtyard of Rashtrapati Bhavan. Besides PM, president also administer oath of office and secrecy to 57 council of ministers comprising of 24 Cabinet ministers (including Amit Shah, Rajnath Singh, Nirmala Sitharaman, Nitin Gadkari, Smriti Irani, and Piyush Goyal), 9 Minister of State (MoS) with Independent charge (MoS I/C) and another 24 as Minister of State (MoS). The oath taking function was attended by leaders from Bay of Bengal Initiative for Multi-Sectoral Technical and Economic Cooperation (BIMSTEC) countries, President of Kyrgyzstan and Mauritius.
Background
The 2019 Indian general election was held in seven phases from 11 April to 19 May 2019 to constitute the 17th Lok Sabha. About 90 crore people were eligible to vote and it saw turnout was over 67%– the highest ever as well as the highest participation by women voters. The election was held for total 543 seats (however, elections of Vellore constituency in Tamil Nadu was cancelled by President of India based on recommendation of Election Commission over misuse of money power, thus total elections for 542 seats was held).
Results: Bharatiya Janata Party (BJP) led by Prime Minister had emerged victories by winning 303 seats, and BJP-led National Democratic Alliance (NDA) won 353 seats. Indian National Congress party won 52 seats and Congress-led United Progressive Alliance (UPA) won 91 seats. Other parties and their alliances won 98 seats.
Note: Legislative assembly elections in states of Arunachal Pradesh, Andhra Pradesh, Odisha and Sikkim were held simultaneously with 2019 Lok Sabha elections.
Council of Ministers
Article 74: It provides provisions for Council of Ministers headed by the Prime Minister to aid and advise the President in exercise of his functions.
Appointment: Prime Minister is appointed by President as per Article 75 (1) of constitution of India, who also appoints other ministers on the advice of Prime Minister. Usually by convention, Council of Ministers comprises Ministers who are members of Cabinet, Ministers of State (independent charge), Ministers of State and Deputy Ministers.
Article 75 (2): It says that Ministers shall hold office during the pleasure of the President. It means that as long as it maintains majority in Lok Sabha as it is collectively responsible to the Lok Sabha.
Article 78: It is the duty of Prime Minister to communicate to President all decisions of Council of Ministers relating to administration of affairs of Union of India and proposals for legislation and information relating to them.