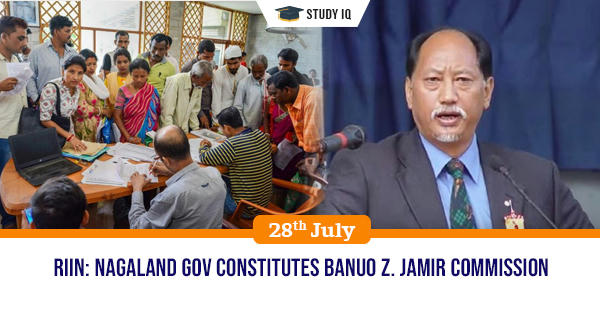 RIIN: Nagaland Gov constitutes Banuo Z. Jamir Commission
Date: 28 July 2019
Tags: Commissions & Committees
Nagaland Government has constituted three-member commission for studying, examining, recommending and advising on all issues relating to Register of Indigenous Inhabitants of Nagaland (RIIN).
About Commission
Composition of commission:

It will be headed retired IAS officer Banuo Z. Its other two members are retired IAS officer T. Kiheto Sema and C. Shingwang Konyak.

Mandate:

It will recommend (i) modalities of creating RIIN (ii) eligibility criteria to be an indigenous inhabitant, (iii) documents to be acceptable as proof for being an indigenous inhabitant, (iv) manner in which the exercise is to be carried out and (v) any other issue relating to implementation of the RIIN.

Term:

It will submit its report within three months.
About Register of Indigenous Inhabitants of Nagaland (RIIN)
It is Nagaland's own of version of citizen's register similar to National Register of Citizens (NRC) which is in process of updation in Assam. It is aimed at preparing master list of all indigenous peoples in the state and checking issuance of fake Indigenous Inhabitant Certificate (IIC) to ineligible persons. It purpose is to identify the citizens who settled in Nagaland prior to December 1, 1963, the day it became a full-fledged State. Nagaland government had process of preparing the RIIN on July 10, 2019.