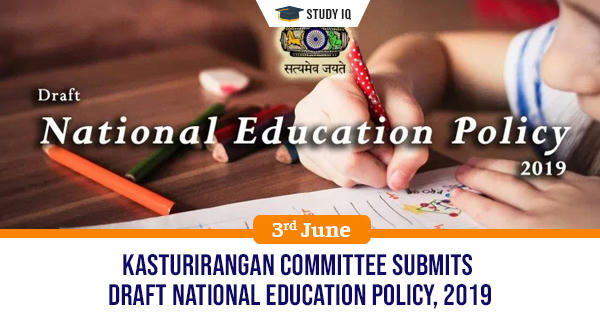 Kasturirangan Committee submits Draft National Education Policy, 2019
Date: 03 June 2019
Tags: Commissions & Committees
Dr K. Kasturirangan Committee has submitted Draft National Educational Policy to Union Human Resource Development Minister Ramesh Pokhriyal 'Nishank'. This draft policy seeks to replace extant National Policy on Education, 1986 modified in 1992.
Key Recommendations
School Education
Right to Education Act, 2009 should be extended to cover children of ages 3 to 18 covering early childhood education prior to Grade 1 and upwards till Grades 12.

Clause 12(1)(c) of RTE Act, 2009- providing for mandatory 25

%

reservation for economically weaker section students in private schools should be reviewed in wake of its alleged misuse.

Proposes 5+3+3+4 curricular and pedagogical structure based on cognitive and socio-emotional developmental stages of children.

It will consists of (i) Foundational Stage (age 3-8 yrs): 3 years of pre-primary plus Grades 1-2; (ii) Preparatory Stage (8-11 years): Grades 3-5;(iii) Middle Stage (11-14 years): Grades 6-8; and (iv) Secondary Stage (14-18 years): Grades 9-12.

Schools should re-organized into school complexes. The content load in school education curriculum should be also reduced.

Does not propose hard separation of content in terms of curricular, extra-curricular, or co-curricular areas. No hard separation of arts and sciences also proposed.

Proposes to include contribution of ancient Indian knowledge systems to mathematics, astronomy, philosophy, medicine in school curriculum.

Proposes single independent regulator called State School Regulatory Authority (SSRA) for the school education sector.

Allows private schools to set their fees, but they should not increase school fees (taken under any head) arbitrarily. It allows percentage fee increase based on inflation, etc and will be decided by SSRA for every three year period.

Bars private schools from using word 'public' in their names. It notes that 'Public' schools will only be those that are funded fully or partially by the government.
Higher Education
Proposes complete restructuring of higher education by reintroducing 4-year programme in Liberal Arts Science Education (LASE) with multiple exit options and scrapping MPhil programme.

Proposed three types of higher education institutions (i) Type 1: Focused on world-class research and high quality teaching; (ii) Type 2: Focused on high quality teaching across disciplines with significant contribution to research; (iii) Type 3: High quality teaching focused on undergraduate education.
Proposes establishment of new apex body Rashtriya Shiksha Ayog to enable integrated implementation of all educational initiatives and to coordinate efforts between Centre and States. It will be headed by Prime Minister and will be responsible for developing, implementing, evaluating, and revising the vision of education on a continuous basis.

Proposes separate single regulator National Higher Education Regulatory Authority for all higher education including professional education.

Proposes establishment of National Research Foundation, an apex body for creating strong research culture and building research capacity across higher education.

Proposes creation of accreditation eco-system led by revamped National Assessment and Accreditation Council (NAAC).

It also proposes Professional Standard Setting Bodies for each area of professional education and transforming UGC to Higher Education Grants Commission (HEGC).
Other recommendations
Private and public institutions will be treated on par and Education will remain a 'not for profit' activity.

Proposes renaming of Ministry of Human Resource Development (MHRD) as Ministry of Education (MoE).

Proposes for considering 4-year integrated stage-specific B.Ed. programme to be minimum degree qualification for teachers.

Proposes increase in number offshore campuses of Indian institutions abroad and to allow world's top 200 universities to set up branches in India to internationalise higher education.

Proposes that all current regulatory bodies such as MCI, AICTE, BCI to be converted into Professional Standard Setting Bodies that set standards for professions.