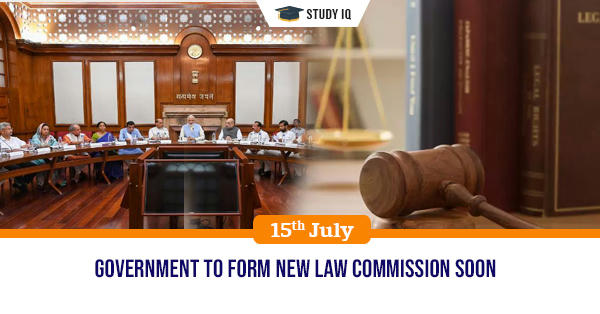 Government to form new Law Commission soon
Date: 15 July 2019
Tags: Commissions & Committees
Union Law Ministry has initiated process of setting up new Law Commission which gives advice to the government on complex legal issues. This comes after three-year term of the 21st Law Commission ended on August 2019 and country was without Law Commission since September 2018.
21st commission
It was formed under Chairman Justice B.S. Chauhan (retd). It had submitted reports and working papers on key issues such as simultaneous polls to the Lok Sabha and the Assemblies and a uniform civil code. It had supported simultaneous polls, but had said that the time was not ripe for a common code.
About Law Commission of India (LCI)
It is non-statutory and non-constitutional body constituted by Union Government from time to time. TCabinet approves reconstitution of the law panel for a period of three years.
First commission: It was constituted in 1955 and since then various commissions were re-constituted every three years.
Composition: It is usually headed by retired Supreme Court judge or former Chief Justice of a high court. The Secretary Department of Legal Affairs and Secretary, Legislature Department of Union Law Ministry are ex-officio members of the Commission.
Significance: So far, various Law Commissions have submitted 262 reports to make important contribution towards codification and progressive development of laws of the country.
Statutory Backing
In 2010 also, the then UPA government had prepared draft Cabinet note to give statutory status to Law Commission and Law Ministry also had mooted to bring the Law Commission of India Bill, 2010. But the idea was shelved.