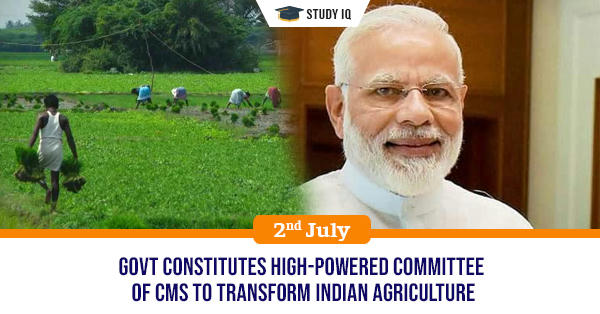 Govt constitutes high-powered committee of CMs to transform Indian agriculture
Date: 02 July 2019
Tags: Commissions & Committees
Prime Minister Narendra Modi has constituted High-powered Committee of Chief Ministers (CMs) for 'Transformation of Indian Agriculture' to bring structural reforms in agrarian sector in the country. It was set up as per deliberations of 5th Governing Council meeting of NITI Aayog and in keeping with promise of Union Government's for agriculture reforms, rural development, water conservation and its proper.
About Committee
Composition:

Maharashtra CM Devendra Fadnavis is the Convenor of the committee. Its members include CMs of Karnataka, Haryana, Arunachal Pradesh, Gujarat, Uttar Pradesh, Madhya Pradesh & Union Minister of Agriculture Narendra Singh Tomar. NITI Aayog Member Ramesh Chand will be its Member Secretar.

Serving agency:

The Committee will be serviced by NITI Aayog and it will submit its report within two months of the date of notification of the Committee.
Terms of Reference (ToR) of Committee
Discuss measures for transformation of agriculture in country and for raising farmer's income.

Examine various provisions of Essential Commodity Act (ECA), 1955 so as to attract private investments in agricultural marketing and infrastructure.

Suggest mechanism for linking of market reforms with e-NAM (National Agriculture Market), GRAM and other relevant Centrally Sponsored Schemes (CSS).

Suggest modalities for adoption and time-bound implementation of agriculture sector reforms.

Suggest policy measures to raise growth in food processing, boost agricultural export and attract investments in value chains and logistics, modern market infrastructure.