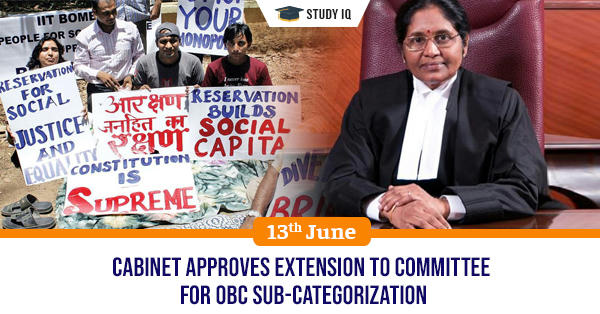 Cabinet approves extension to Committee for OBC Sub-categorization
Date: 13 June 2019
Tags: Commissions & Committees
The Union Cabinet has approved two months extension to Committee for Sub-categorization within Other Backward Classes (OBCs) in the Central List. The term of the Commission now extended till 31st July, 2019. This is overall sixth extension to this commission whose term was to expire on May 31, 2019.
Background
The Commission was constituted under article 340 of the Constitution with the approval of President of India in October2017.It is headed by Justice (Retd.) Smt. G. Rohini. Since then it has been granted several extensions, given "voluminous data involved and time required for analysis to prepare a comprehensive report.
Sub-categorisation of OBCs
It is aimed at ensuring more equitable distribution of reservations in educational institutions and government jobs, so that dominant groups among OBCs do not corner all benefits. It is first government-mandated exercise to quantify skewed flow of benefits among different OBC communities and suggest steps to correct imbalance. It will involve sub-categorisation of 5,000 castes in central OBCs list.
Terms of Reference of Commission
It is mandated to examine extent of inequitable distribution of benefits of reservation among castes included in broad category of OBCs, especially with reference to OBCs included in Central list. It will take up exercise of identifying respective castes or sub-castes or communities synonyms in Central List of OBCs and classify them into their respective sub-categories. It is also mandated to chart out mechanism, criteria, norms and parameters, in scientific approach, for sub-categorization within such OBCs.
Extension of the tenure
It will enable commission to evaluate the issue of Sub-categorization of OBC's in Central list based on wider consultations with various stakeholders and to submit comprehensive report on the issue.