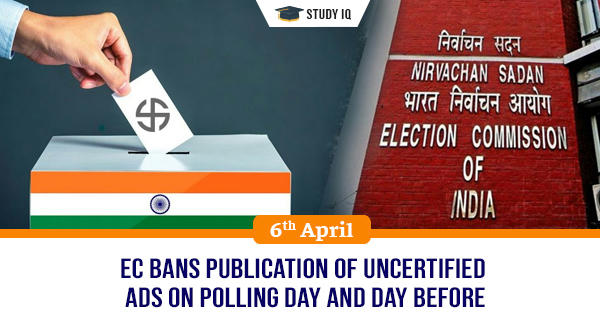 EC bans publication of uncertified ads on polling day and day before
Date: 06 April 2019
Tags: Commissions & Committees
Election Commission of India has banned publication of uncertified ads in the print media on polling day and day before all phase of Lok Sabha elections. This ban will for political parties, candidates and other organizations if they fail to get approval for advertisement from Media Certification and Monitoring Committee (MCMC) at the state and district levels. For this decision, EC has invoked its constitutional power under Article 324 of Constitution
Ban on uncertified ads
This decision aims to ensure that no untoward incident takes place because of any inflammatory or hate advertisements. EC held that advertisements of offending and misleading nature published in print media vitiate entire election process.
In order to facilitate process of pre-certification of newspaper advertisements as instructed above, EC has immediately alerted and activated MCMC at State/district level to examine and pre-certify all such advertisements received from political parties and candidates and others.
Background
As of now, only electronic media was barred from showing election publicity material during last 48 hours before conclusion of polling. In 2016, EC had urged Central Government to amend electoral law to bar political advertisements in print media (newspapers) 48 hours before day of polling on lines of restriction on electronic media. However, this proposal of banning political advertisements on election day and day before is pending with Union Law Ministry for years. Earlier, EC had invoked its constitutional powers to ban such newspaper advertisements for first time on a case-by-case basis during Bihar assembly election in October-November of 2015.