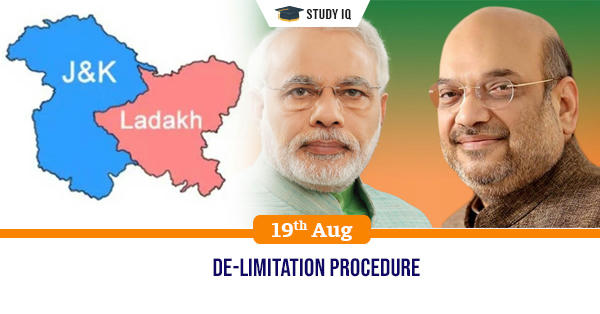 De-limitation Procedure
Date: 19 August 2019
Tags: Commissions & Committees
Issue
Government is contemplating on creating committee to review de-limitation of electoral constituencies of Jammu and Kashmir.
Background
After the bifurcation of Jammu and Kashmir state into the Union Territories of J&K and Ladakh, delimitation of their electoral constituencies has been due. While it has not been formally notified to the Election Commission yet, the EC has held "internal discussions" on the Jammu and Kashmir Reorganization Act, 2019, particularly its provisions on delimitation.
Details
Importance of Delimitation
Delimitation is the act of redrawing boundaries of Lok Sabha and state Assembly seats to represent changes in population. In this process, the number of seats allocated to different states in Lok Sabha and the total number seats in a Legislative Assembly may also change.

The main objective of delimitation is to provide equal representation to equal segments of a population. It also aims at a fair division of geographical areas so that one political party doesn't have an advantage over others in an election.

Delimitation is carried out by an independent Delimitation Commission. The Constitution mandates that its orders are final and cannot be questioned before any court as it would hold up an election indefinitely.
Delimitation Procedure
Under Article 82, the Parliament enacts a Delimitation Act after every Census. Once the Act is in force, the Union government sets up a Delimitation Commission made up of a retired Supreme Court judge, the Chief Election Commissioner and the respective State Election Commissioners

The Commission is supposed to determine the number and boundaries of constituencies in a way that the population of all seats is the same as near as possible. The Commission is also tasked with identifying seats reserved for Scheduled Castes and Scheduled Tribes where their population is large.

The draft proposals of the Delimitation Commission are published in the Gazette of India, official gazettes of the states concerned and at least two vernacular papers for public feedback. The Commission also holds public sittings.

After hearing the public, it considers objections and suggestions which are obtained either in writing or orally before making any changes. The final order is published in the Gazette of India and the State Gazette and comes into force on a date specified by the President.