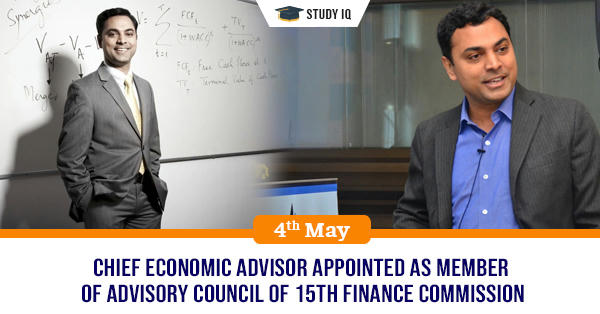 Chief Economic Advisor appointed as member of Advisory Council of 15th Finance Commission
Date: 04 May 2019
Tags: Commissions & Committees
Chief Economic Advisor to Central Government Dr. Krishnamurthy Subramanian was appointed as Member of Advisory Council of Fifteenth Finance Commission. He will be the twelfth Member of advisory council.
Advisory Council of 15th Finance Commission
It constituted by Finance Commission in April 2018 to advise Finance Commission on any relevant issue related to its Terms of Reference (ToR).

It was also mandated to assist FC in preparation of any research study which will enhance its understanding on issue contained in ToR.

Its function is also to help broadening FC's understanding to seek best national and international practices on matters pertaining to fiscal devolution.
Krishnamurthy Subramanian
He was appointed as the chief economic advisor in Union Finance Ministry for three years in December 2018. He had succeeded Arvind Subramanian. He is alumni of Indian School of Business (ISB), Hyderabad.
Finance Commission
It is constitution quasi-judicial body constituted by the President of India every fifth year under Article 280 of the Constitution of India. It consists of Chairman and four other members, appointed by President of India. It makes non-binding advisory recommendations to Government on following matters-
Distribution of net proceeds of taxes between Centre and States and allocation of respective shares of such proceeds between states.

Principles governing centre in granting aid to states

Measures to be taken to augment consolidated fund of states to supplement resources of local governments in states

Any other method referred by President of India in interests of sound finance
15th Finance Commission (FCC)
It was constituted by President in November 2017 to give recommendations for devolution of taxes and other fiscal matters for five fiscal years, commencing 1 April 2020 till 2025.
Composition: N. K. Singh is Chairman. Its full-time members are Ajay Narayan Jha, Ashok Lahiri and Anoop Singh. Ramesh Chand is its part-time member.