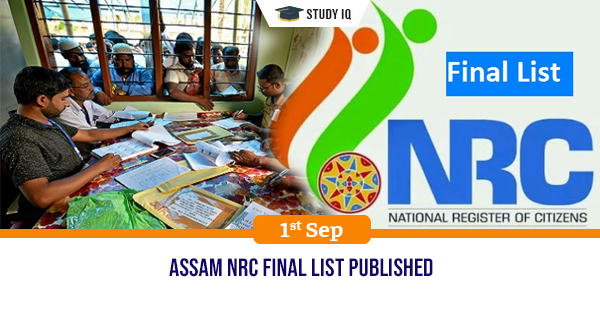 Assam NRC final list published
Date: 01 September 2019
Tags: Commissions & Committees
Issue
More than 19 lakh of the 3.29 crore applicants in Assam were left out of the final National Register of Citizens (NRC) that was published on Saturday to conclude the exercise that took five years and 1,220 crore.
Background
The register was first prepared after the 1951 Census of India. The update process of NRC started in the year 2013, when the Supreme Court of India passed orders for its update. Since then, the Supreme Court has been monitoring it continuously.

The entire project is headed by the State Coordinator of National Registration, Assam, Mr Prateek Hajela.
Details
The process of NRC update in Assam differs from the rest of the country and is governed by Rule 4A and the corresponding Schedule of the Citizenship (Registration of Citizens and Issue of National Identity Cards) Rules, 2003.

These rules were framed as per the cut-off date of the midnight of March 24, 1971, enshrined in the Assam Accord of 1985.

The applicants were provided adequate opportunities of being heard at every stage of the process conducted as per statutory provisions and due procedure followed at every State.

The

complete NRC draft was published on July 30, 2018

, wherein 2, 89, 83,677 people were found eligible for inclusion while 40,007,707 were excluded.
Purpose of NRC
The purpose of NRC update is to identify Indian citizens from amongst all the residents of Assam thereby leading to identification of illegal migrants residing in Assam, who entered Indian territories after the midnight of 24 March 1971.

To determine the citizenship of the applicants who have applied for inclusion of their names in the updated NRC.
Future of excluded Individuals
Excluded persons will have 120 days to file an appeal at any of the existing 100 Foreigners' Tribunals. At least 200 additional Foreigners' Tribunals are expected to be set up by September, 2019.

The Tribunals are required to dispose of the cases within six months. Appellants can then approach the High Court and Supreme Court.

They will get a window of 10 months to prove their citizenship before being sent to detention centres.