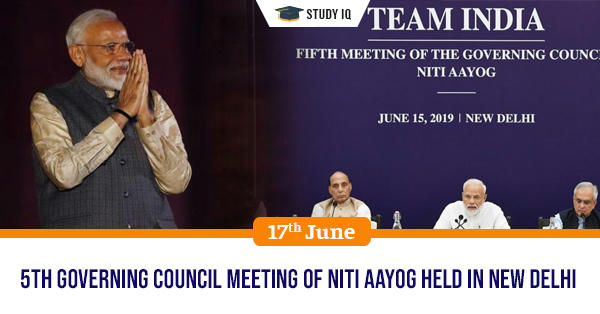 5th Governing Council Meeting of NITI Aayog held in New Delhi
Date: 17 June 2019
Tags: Commissions & Committees
The fifth meeting of the Governing Council of National Institution for Transforming India (NITI) Aayog was held under Chairmanship of Prime Minister Narendra Modi at Rashtrapati Bhawan, New Delhi. It was first governing council meeting under new Modi government.
The five-point agenda meeting included deliberating upon drought situation and and rain-water harvesting, farm distress, aspirational districts programme, transforming agriculture and security related issues with special focus on left wing extremism (LWE) districts,
Announcements made in 5th meeting
Constituted high-level task force for undertaking structural reforms in agriculture, including strengthening logistics, produce marketing, food processing as well as changes to the Essential Commodities Act.

India is targeting to become $5 trillion economy by 2024.

Various good practices in water management were highlighted such as Jalyukt Shivar in Maharashtra, Rajasthan's Mukhya Mantri Jal Swavalamban Abhiyaan and Mission Kakatiya in Telangana.
Governing Council of NIIT Aayog
It is apex decision making body of NITI Aayog tasked with evolving shared vision of national development priorities, sectors and strategies with the active involvement of States in shaping development narrative of the country.

It embodies NITI Aayog's objectives of cooperative federalism, presents a platform to discuss inter-sectoral and federal issues to accelerate the implementation of the national development agenda.

It reviews action taken on agenda items of the previous meeting and deliberates upon the future developmental priorities

Composition:

It comprises Prime Minister of India (ex-officio Chairman). Chief Ministers of all the States and UTs with Legislatures and Lt. Governor of Andaman and Nicobar Islands are members. Four Union Ministers are ex-officio members and three Union Ministers as Special Invitees.

Previous meetings:

First Meeting was held in February 2015, Second in July 2015, Third in 2017 and Fourth in June 2018.