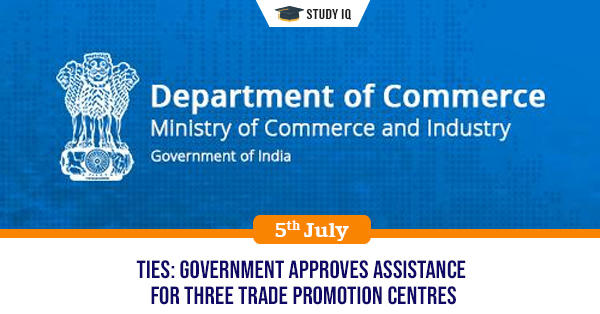 TIES: Government approves assistance for three trade promotion centres
Date: 05 July 2019
Tags: Commerce & Industry
Department of Commerce under Union Ministry of Trade and Commerce has approved financial assistance for three trade promotion centres under 'Trade Infrastructure for Export Scheme (TIES)'. These three trade promotion centres are
Establishment of Main Exhibition Building (Phase-II) at Trade cum Permanent Exhibition Centre at Imphal, Manipur.

Expansion of Chennai Trade Centre, Tamil Nadu.

Establishment of Trade Promotion Centre at Minto Hall, Bhopal, Madhya Pradesh.
About Trade Infrastructure for Export Scheme (TIES)
It was launched by Union Ministry of Commerce and Industry in March, 2017. It had replaced Assistance to States for Development of Export Infrastructure and Allied Activities (ASIDE) Scheme launched in 2015.

Objective:

To enhance export competitiveness by bridging gaps in export infrastructure, creating focused export infrastructure and first-mile and last-mile connectivity for export-oriented projects and addressing quality and certification measures.

Eligibility:

Central and State Agencies, including Export Promotion Councils, SEZ Authorities, Commodities Boards and Apex Trade Bodies recognised under EXIM policy of Central Government are eligible for financial support under this scheme.

Financial Assistance:

Central Government funding will be in form of grant-in-aid, normally not more than the equity being put in by the implementing agency or 50% of the total equity in the project. In case of projects located in North Eastern States and Himalayan States including J&K, this grant can be upto 80% of the total equity.