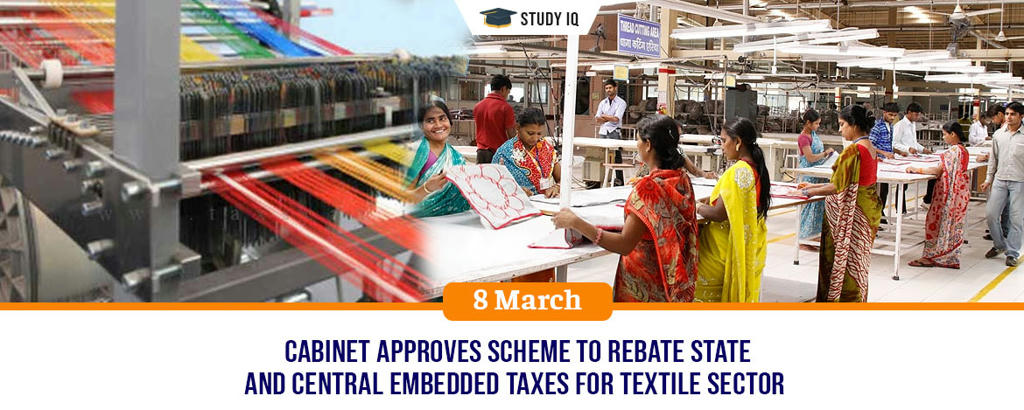 Cabinet approves Scheme to Rebate State and Central Embedded Taxes for textile sector
Date: 08 March 2019
Tags: Commerce & Industry
Union Cabinet chaired by Prime Minister Narendra Modi has approved Scheme to Rebate all state and central embedded taxes on apparel and made-up textile segment. The decision also entails change in disbursal mechanism whereby rebate of all embedded state and central levies will be done through the scrip system. The revenue foregone estimate due to decision has been pegged at Rs 6,300 annually.
Background
Apparel and made-ups of textile sector have combined share of 55% (around US $21 billion) in total Indian textile export basket. Made-up segment includes products like bed-sheets, blankets and curtains.

At present, these textile segments are supported under Scheme for Rebate of State Levies (RoSL). It is mainly to offset indirect taxes levied by states such as stamp duty, petroleum tax, electricity duty and mandi tax that are embedded in exports.

However, certain states as well as central taxes still continued to be present in cost of their exports making them less competitive in export markets.

Moreover, incentives for apparel and made-ups under Merchandise Exports from India Scheme (MEIS) were also not World Trade Organisation (WTO) compatible anymore.
Benefits of tax rebates
It is expected to make the textile sector competitive as shipments from neighbouring countries like Sri Lanka, Bangladesh and Vietnam enjoy zero duty access to EU, which is biggest export market for India's apparel sector.

It will make exports of apparel and made-up textile segment zero-rated, thereby boosting India's competitiveness in export markets. It will also ensure equitable and inclusive growth of textile and apparel sector.

The IT-driven scrip system for rebate disbursal mechanism will also help in preventing delay and ensuring speedy disbursal.