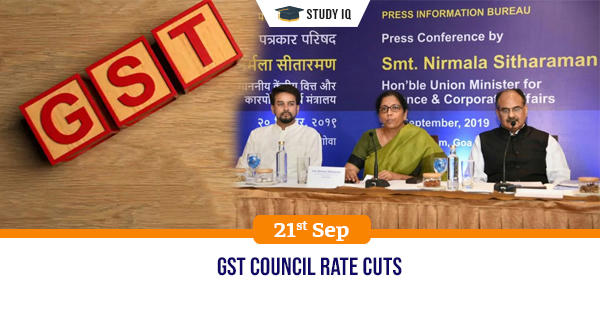 GST council rate cuts
Date: 21 September 2019
Tags: Commerce & Industry
Issue
The Goods and Services Tax (GST) Council has cut taxes on hotel accommodation, outdoor catering, cut and polished semi-precious stones and lowered cess on passenger vehicles during its review meeting.

Background
The GST rates were slated for a tweak considering growing demands from various sectors to review the rates such as automobile and consumer goods.
GST rate changes
The GST rate on hotel rooms with tariffs above ?7,500 per day, which is presently 28%, has been reduced to 18%, while the tax on rooms with a transaction value of ?1001 to ?7,500 per day will be 12%, down from 18% currently.

The tax levied on caffeinated beverages has been raised from 18% to 28% with an additional compensation cess of 12%, in an attempt to deter their consumption.

The tax levied on wet grinders that consist of stone, has been slashed from 12% to 5%, while the GST on dried tamarind and plates/cups made up of leaves, flowers or bark have been reduced to nil from 5%.

Zero GST on the export of jewellery and a reduction in the GST levied on cut and polished semi-precious stones from 3% to 0.25%.
Reduction in the cess on large passenger vehicles that can carry 10 to 13 persons. The cess on such vehicles will be reduced from 15% over and above the 28% GST rate, to 1% for petrol vehicles of certain specifications and 3% for diesel vehicles.