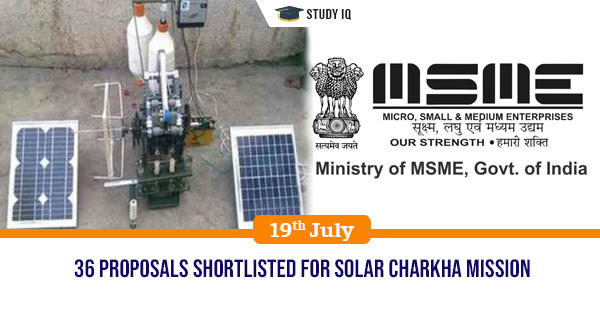 36 Proposals shortlisted for Solar Charkha Mission
Date: 19 July 2019
Tags: Commerce & Industry
Union Ministry of Micro,Small & Medium Enterprises (MSME) has notified that total 36 proposals have been shortlisted by Khadi and Village Industries Commission (KVIC) from the proposals submitted by promoters agencies under Mission Solar Charkha.
Mission Solar Charkha
It has been launched by Union Ministry of MSME for implementation of 50 Solar Charkha Clusters across the country with budget of Rs. 550 crore for year 2018-19 and 2019-20

It envisages generating direct employment for nearly one lakh persons especially in rural areas and contribute to the green economy. Solar Charkha units have been classified as Village Industries. It also seeks to link five crore women across the country to the initiative.

Objectives of Scheme

: (i) To ensure inclusive growth by generation of employment, especially for youth and women, and sustainable development through solar charkha clusters in rural areas. (ii) To boost rural economy and help in arresting migration from rural to urban areas. (iii) To leverage low-cost, innovative technologies and processes for sustenance.

Implementing agency:

Khadi and Village Industries Commission (KVIC).

Target:

To cover 50 solar clusters across the country, whereby approx.1,00,000 artisans/beneficiaries are to be covered under various scheme components.

Coverage:

It is being implemented in all States of India. The geographical distribution of these clusters is throughout country, with at least 10% located in J&K and hilly states, North Eastern Region (NER). It gives special focus to 117 aspirational districts for soliciting project proposals under it.