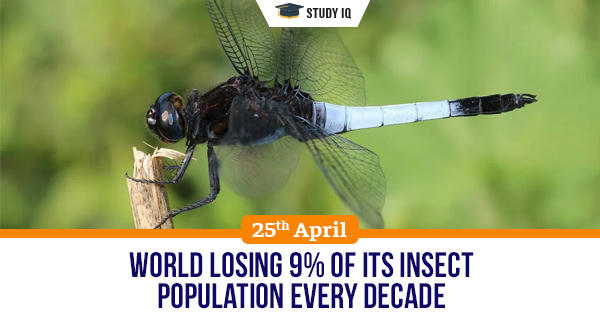 World losing 9% of its insect population every decade
Date: 25 April 2020
Tags: Climate Change
Issue
Scientists have warned that global insect populations are facing a rapidly accumulating decline in the most extensive analysis to date.
Background
Researchers shifted through more than 166 long-term surveys carried out across 1,676 sites between 1925 and 2018. The found the number of insects is falling on average 0.92 percent every year, or about 9 percent every decade.
Details
While the global pattern is one of decline, the rate at which this is happening isn't heterogeneous. It fluctuates over time and geography. In some spaces, the study's authors even noticed positive trends, meaning numbers of insects were going up not down.

Specifically, the results suggest the number of midges, mayflies and other freshwater insects have been increasing on average around 1.08 percent each year. The authors cautiously attributed this result to effective water protection policies.

The authors found that populations of insects living in tree canopies appear to have remained relatively stable, while flying insects and ground-dwelling insects have experienced some of the sharpest declines.

The study suggests there can be stark differences between regions, and even between areas that are geographically close to one another. The researchers found that protected sites and those less affected by human activity had lower levels of decline than those most affected by urbanization.

In general, the steepest declines were recorded in the western and mid-western U.S. states and Europe, where a 2017 study found numbers of flying insects had dropped more than 75 percent in less than 30 years.

The phrase 'insect Armageddon' has captured the collective attention and shined a spotlight on one of the most numerous and diverse groups of organisms on the planet. Yet, insects are critically understudied.

The authors call for more comprehensive testing of human pressure and more data from underrepresented parts of the world to address these limitations and gain a broader understanding of trends in global ecosystems.