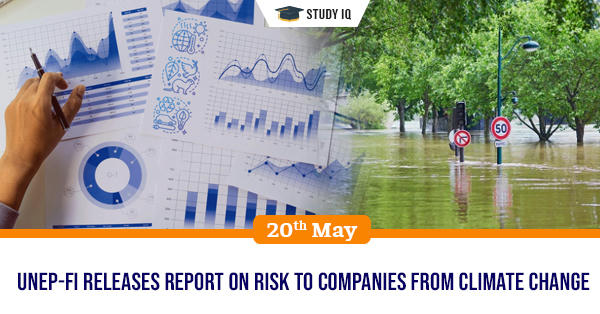 UNEP-FI releases report on risk to companies from climate change
Date: 20 May 2019
Tags: Climate Change
Recently, institutional investors from 11 countries convened by United Nations Environment Finance Initiative (UNEP-FI) released report (or investor guide) that helps investors understand how to calculate the risk companies face from climate change.
Background
Climate change is already impacting economies around the world and it is continuing. Several reports by the Intergovernmental Panel on Climate Change (IPCC) has warned about various risks to economies. However so far there was no specific assessment of how companies can account for such risks. In this background, this investor guide was made in line with recommendations by Task Force on Climate-related Financial Disclosures (TCFD), a 32-member board formed as a result of agreement at a G20 summit in London, 2009. This board consisted of representatives from large banks, asset managers, insurance companies, pension funds, large non-financial companies and credit rating agencies.
Key findings of report
In the scenario of increase in 1.5°C global temperature, companies are exposed to significant level of transition risk, affecting as much as 13.16% of overall portfolio value. It represents value loss of $10.7 trillion.
Agriculture, utilities, transportation as well as mining and petroleum refining sectors are at high levels of policy risk. On bright side, $2.1 trillion potential green profits can be made. However, green revenues generated from sale of low carbon technologies, which support transition.
Green profits will help companies to offset costs from complying with greenhouse gas (GHG) reduction policies. If governments delay action to enact climate policies that reduce greenhouse gas emissions (GHGs), then 30,000 companies across the globe will face further cost of $1.2 trillion.
United Nations Environment Programme – Finance Initiative (UNEP-FI)
It is partnership between UN Environment and global financial sector. It was established in wake of the 1992 Earth Summit with mission to promote sustainable finance. More than 240 financial institutions including banks, insurers and investors work with UN Environment under it. It hosts its Global Roundtable every other year since 1994. In 2017, UNEP FI had established regional roundtables to celebrate its 25th Anniversary.