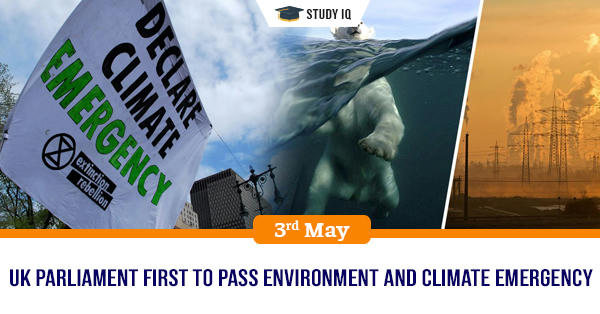 UK Parliament first to pass Environment and Climate Emergency
Date: 03 May 2019
Tags: Climate Change
United Kingdom Parliament becomes the first national legislative body in the world to pass national declaration (or motion) of an Environment and Climate Emergency. In this regard, Member of Parliaments have adopted motion moved by opposition Labour Party for this environmental emergency. This move marks serious emergency in dealing with climate change. However, this motion was approved without vote and registers views of House of Commons without compelling government to act on any particular policy proposal,
Motion on Environment and Climate emergency
It calls on government to adopt net zero emission target for before 2050, introduce new short term targets for clean tech deployment and come forward with new plan within six months to deliver circular and zero waste economy. It caters to national reductions and investment in reduction of carbon emissions and saving the planet. It also calls on Government to come forward with new policies to close current emissions gap for UK's medium term carbon budgets, accelerate country's rate of decarbonisation, and step up investment in negative emissions technologies.
Background
The adoption of this motion was preceded by visit by teenage environment activist Greta Thunberg (to UK Parliament), featuring of David Attenborough's documentary movie titled 'Climate Change: The Facts' in Parliament and 11-days of constant protest by environmental group 'Extinction Rebellion'in the capital city London