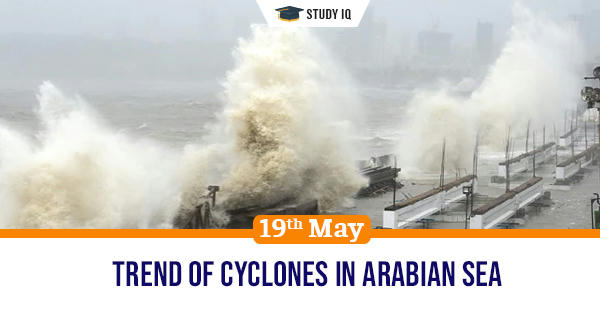 Trend of cyclones in Arabian Sea
Date: 19 May 2021
Tags: Climate Change
Issue
The Tauktae cyclonic storm has made its land-fall over the state of Gujarat. It was the latest severe cyclonic storm to develop over the Arabian Sea.
Background
Over the years, a new trend has emerged over Arabian Sea. The number of strong cyclones developing over the region has increased.
Details
Tauktae will be the fourth cyclone in four years to have formed over Arabian Sea during the pre-monsoon season between April-June.

All the cyclones after 2018 have been classified as 'severe cyclone' or above. Three of these cyclones have either hit the coast of Gujarat or Maharashtra.

The Nisarga cyclone of 2020 stuck Maharashtra, the Mekanu of 2018 stuck Oman and Vayu of 2019 stuck Gujarat.

The Tauktae was unique in nature because it intensified within 36 hours of formation of low pressure area. In comparison, Nisarga took 5 days and Mekanu took 3 days.
Reason for development of intense cyclones
The sea water over Arabia Sea has been warm and moist during pre-monsoon period. This has allowed cyclone to derive its energy and stay alive.

The heat released from condensation process directly impacts the pressure. Higher the heat, faster will be pressure drop. It then undergoes multiple stages to intensify.

The time between May-June and October-November are notorious to produce intense cyclones in north Indian Ocean. This is because of the Inter-Tropical Convergence Zone.
Cyclonic activity over Arabian Sea
Cyclonic storms in Indian Ocean usually take place in Bay of Bengal as it is warmer than Arabian Sea. In recent times, Arabian Sea has also been heating due to global warming.

The Lakshadweep area also sees formation of cyclonic storms but they usually venture westwards, away from India's west coast.