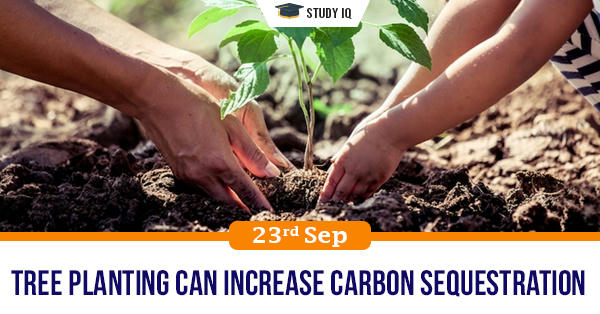 Tree planting can increase carbon sequestration
Date: 23 September 2020
Tags: Climate Change
Issue
Forest Service scientists have published an in-depth study on the value of tree planting as a means of offsetting carbon emissions in the United States.
Background
They found that fully stocking non-stocked and poorly stocked forests would result in an annual increase of 20 percent in the amount of carbon sequestered by forests.
Details
Forests and harvested wood products annually offset the equivalent of more than 14 percent of economy-wide carbon dioxide emissions in the Nation, however, almost 33 million hectares of productive forestland are understocked due to harvesting, natural disturbance, limited seedling availability and the infrastructure necessary to reforest, among other factors.

The study by a team of USDA Forest Service scientists suggests that concentrating tree planting on understocked forest land, particularly in western states, Florida, and the Northeast, may substantially increase carbon sequestration capacity in the United States.

Concentrating plantings on productive areas with the fewest trees has greater potential for enhanced carbon sequestration capacity than distributing the same number of trees over larger areas.

The analysis takes into consideration growth, removals and mortality and focuses on productive forestlands available for forest management across all land ownerships.
Carbon sequestration
Carbon sequestration or carbon dioxide removal is the long-term removal, capture or sequestration of carbon dioxide from the atmosphere to slow or reverse atmospheric CO2 pollution and to mitigate or reverse global warming.
Carbon sequestration methods
Ocean iron fertilization is an example of such a geoengineering technique. Iron fertilization attempts to encourage phytoplankton growth, which removes carbon from the atmosphere for at least a period of time.
Wetland soil is an important carbon sink; 14.5% of the world's soil carbon is found in wetlands, while only 6% of the world's land is composed of wetlands.
Afforestation is the establishment of a forest in an area where there was no previous tree cover. Reforestation is the replanting of trees on marginal crop and pasture lands to incorporate carbon from atmospheric CO2 into biomass.
For this carbon sequestration process to succeed the carbon must not return to the atmosphere from mass burning or rotting when the trees die.
Peat bogs act as a sink for carbon due to the accumulation of partially decayed biomass that would otherwise continue to decay completely.
By creating new bogs, or enhancing existing ones, the amount of carbon that is sequestered by bogs would increase.
Geological sequestration refers to the storage of CO2 underground in depleted oil and gas reservoirs, saline formations, or deep, un-minable coal beds.
Carbon, in the form of CO2 can be removed from the atmosphere by chemical processes, and stored in stable carbonate mineral forms. This process is known as 'carbon sequestration by mineral carbonation' or mineral sequestration.