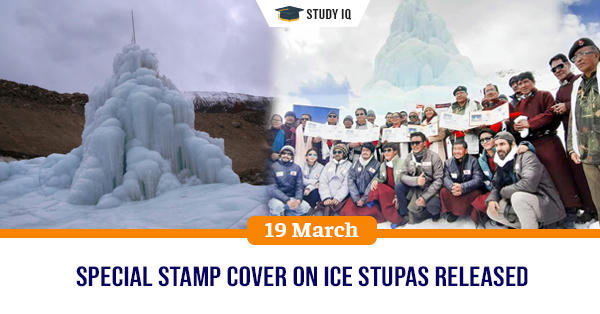 Special Stamp Cover on Ice Stupas released
Date: 19 March 2019
Tags: Climate Change
Department of Post (DoP) under Ministry of Communication & Technology has released Special Stamp on Ice Stupa (Artificial Glacier) in Leh, Jammu and Kashmir. This special stamp is aimed at creating awareness about depleting glaciers and its effect on the ecology around the Himalayas.
Ice Stupa
It concenpt has been conceptualized Ramon Magsaysay winner Sonam Wangchuk in Ladakh. It is form of glacier grafting technique that creates artificial glaciers.

It is used for storing winter water which otherwise would go unused in the form of conical shaped ice heaps or stupa which is not melted easily.

In summer, this stupa melts slowly and provide water drinking and irrigation. In each ice stupa atleast 30-50 lakh ltrs of water is saved.

It will help to reduce impact of climate change on Leh and Ladakh regions which are facing water shortage problem due to shrinking glaciers.