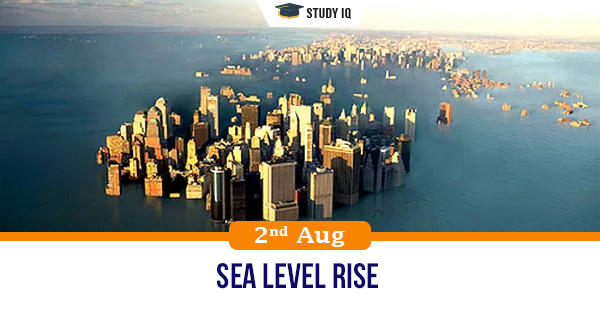 Sea level rise
Date: 02 August 2020
Tags: Climate Change
Issue
In a study, researchers predict that by 2100, the global population potentially exposed to episodic coastal flooding will increase from 128-171 million to 176-287 million.
Background
The researchers note that sea-level rise (SLR) is a well-accepted consequence of climate change and their study has found that globally 68 per cent area is prone to coastal flooding.
Details
Because sea level rise is not uniform across the world, there is a need to differentiate regional SLR from the global rates.

For instance, the gravitational pull of the polar ice sheets has different effects on sea levels in different parts of the world, which means regional SLR can be higher or lower than the global SLR.

As per this assessment, 0.5-0.7 per cent of the world's land area is at risk of episodic coastal flooding by 2100, impacting 2.5-4.1 percent of the population, assuming there are no coastal defences or adaptation measures in place.

The situation looks grim for India's financial capital Mumbai as well. As per some projections, climate change is expected to inundate significant sections of Mumbai by 2050, impacting millions of people.

Other cities that regularly feature in the lists endangered by climate change include Guangzhou, Jakarta, Miami, and Manila.

IPCC projections too maintain that SLR is going to accelerate further and faster in the coming years. Some of the expected impacts of SLR over the course of the century include habitat contraction, loss of functionality and biodiversity, and lateral and inland migration.

A Special Report on the Ocean and Cryosphere in a Changing Climate, published last year by the IPCC, noted that well-designed coastal protection could both reduce expected damages and be cost-efficient for urban and densely populated areas.