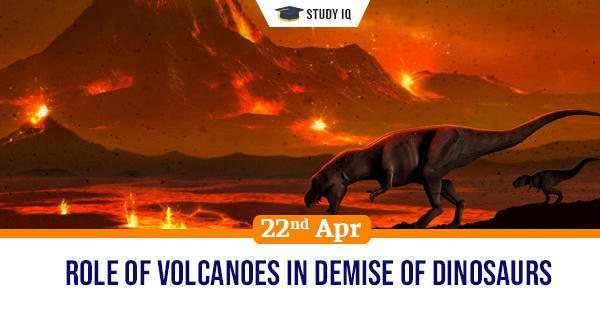 Role of volcanoes in demise of dinosaurs
Date: 22 April 2021
Tags: Climate Change
Issue
A recent study has identified Massive volcanic eruptions as the major reason behind the environmental changes that led to three of the mass extinctions.
Background
The Cretaceous mass extinction was the fifth and the latest mass extinction that killed the dinosaurs completely.
Details
Scientists have been debating whether emission of dangerous gases from Deccan traps in India or an asteroid strike was the main reason for causing climate change that killed dinosaurs.

Now, scientists have measured the outgassing of CO2 to determine the role played by volcanic eruptions in shifting climate during the cretaceous period.

They have identified a global warming event that was identified at the end of cretaceous period. Some have linked this event to eruption of Deccan traps.

There are doubts whether eruption could have emitted enough CO2 to cause a global warming event of such magnitude.
The study
The team measured amount of CO2 trapped inside frozen magma crystals of Deccan Traps from the end-Cretaceous time period.

They modelled the climate of cretaceous period to find the impact of carbon release on the climate during that time.

The study indicated that Deccan trap event released enough CO2 to increase surface temperature by 3 degree Celsius but it did not sustain till the extinction time.

There is also enough evidence to suggest that CO2 emission was not the major driver behind extinction during the cretaceous period.
Deccan traps
Deccan traps are a series of volcanic layers that are arranged in a step formation. They are one of the largest volcanic formations of the world.

The traps were formed when lava emerged from the Western Ghats and spread throughout the central peninsula to form the distinct structures.